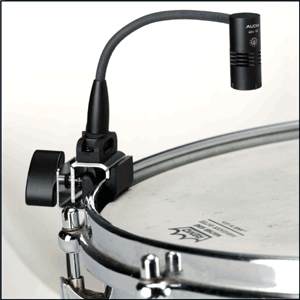 The miniature ADX-90 electret condenser is a small, black anodized aluminum condenser mic with a miniature four-inch D-Flex gooseneck and a shock-mounted clamp. The chromed steel clamp has a thumb screw arrangement and rubberized jaws for secure mounting to anything. The ADX-90 has a 50Hz to 18kHz frequency response and a sensitivity of 5mV. You'll only need 9 to 52 volts of phantom powering to run what looks like an elongated XLR connector/adapter. There is a mini-connector on a 14-foot lightweight cable that plugs into the XLR adapter/connector and feeds into the end of the mic's gooseneck.

I like the idea of reducing the number of mics around a drum kit. Offering a visually better looking drum kit, these mics are very low profile and a natural for live stage sound. I mounted them on two tom-toms of a large kit I was recording. The ADX-90s attached easily to the rims of the drums and the gooseneck made it easy to aim the cardioid microphone right where I wanted it. With no XLR connectors to deal with on the mic body, there isn't a clearance problem with low flying cymbals. I also put two of the ADX-90s on the snare drum: one on top and bottom. A very clean setup without mic stands getting in the way, this was the easiest snare miking I have ever done! Using the mics on drums, I found not much proximity effect being that close to the drums and the sound is somewhere between a dynamic and a vintage condenser. With better low end than dynamics and brighter, I equalized less. In my drummer's case, it was a Jazz session with light to medium drum intensities but I can't wait to try them on a hard rock drummer since the ADX-90s are rated at 135dB maximum SPL and have greater than 25dB of off-axis rejection.

And at $199 MSRP each, it makes sense to buy several instead of just one or two more expensive condenser mics. The ADX-90 microphone package includes an integral clamp, foam windscreen, cable, protective carrying pouch, and the phantom power supply adapter. For more information, contact Audix at 800-966-8261 or 503-682-6933, or Web to: www.audixusa.com.Audix Corporation is located at 9400 SW Barber Street, Wilsonville, OR 97070

Barry Rudolph is an L.A.-based recording engineer/producer.
Visit his Web site at: www.barryrudolph.com
Web Page design is copyright ©2000 by Barry Rudolph
Reprinted with permission of Music Biz Magazine. © 2000. All Rights Reserved.