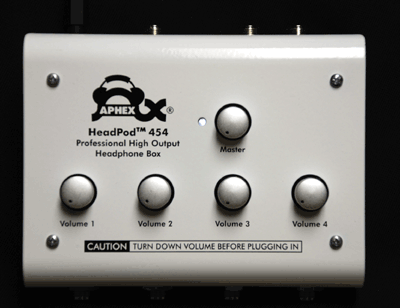 The latest studio problem-solver from Aphex Systems is the Model 454 HeadPod™, a studio headphone amplifier with four stereo headphone stations, each with its own power amp and level control. The $249 HeadPod will interface any audio system no matter operating audio level or impedance requirements. It can drive any combination of disparate headphones simultaneously, without interaction to maximum comfortable loudness with minimal distortion.
About 5 inches square and powered by an included wall wart power supply, HeadPod is constructed in a low-profile, heavy steel box, making it perfect for desktop use. Headphones with an impedance range between 8 ohms and 1 kilohm are usable with 55-ohm impedance 'phones receiving up to 1.5 watts of power. Distortion (THD+N, 1 kHz) is specified at less than 0.001 percent when driving a 25-ohm load with 100 mW.
The unit accepts balanced and unbalanced line inputs of any impedance from 10 to 20 kilohms and up to +24dBu level. It has a pair of balanced, 1/4-inch TRS left and right channel jack inputs and a single 1/4-inch unbalanced TRS input. A solid-feeling switch toggles between these two inputs. The master level input control sets the gain structure for a wide variety of levels and sources. Although not an ideal hook up method, you can connect HeadPod to the headphone out jack of your small mixer, CD player or DAW interface and cleanly drive four sets of cans at one time.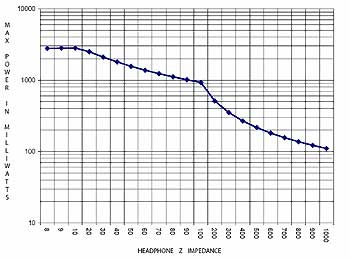 My first test was to connect the headphone output of my professional CD player to the TRS input of HeadPod. The unit's headphone amp sounded fine at low volumes on my AKG K271 phones (55-ohms) but at higher volumes I could hear compression and dips in overall volume on loud bass notes. The overall sound thinned out noticeable. After adding HeadPod, the loud bass notes remained loud and clear and the overall mix was fatter sounding.
I used HeadPod in my Pro Tools studio as a second cue system for drum overdubs where the drummer required the click track to be ridiculously loud over the rest of the mix. Since I didn't need to hear the click very loud, a separate mix and second headphone amp was required.
I derived the drummer's cue mix inside of Pro Tools and sent it out using I/O channels 7 and 8 of the HD192 interface. I connected the HD192's 7/8 analog outs to HeadPod's TRS input and analog outs 1 and 2, which carries the stereo monitor mix, to the unit's balanced inputs. By throwing the HeadPod's input selector switch, I could toggle between the drummer's mix and my monitor mix.
For the some of the current crop of DAW interface units with modestly powered headphone facilities at best, Model 454 HeadPod is the perfect addition. It works great when sharing a clean and loud headphone mix amongst singers or musicians is required. In pro studios, HeadPod is a good choice for an auxiliary cue system because it is small, powerful, completely standalone and universally adaptable to any pre-existing audio system.
Aphex Systems, 818/767-2929, www.aphex.com.
Barry Rudolph is an L.A.-based recording engineer. Visit his Web site at: WWW.BARRYRUDOLPH.COM