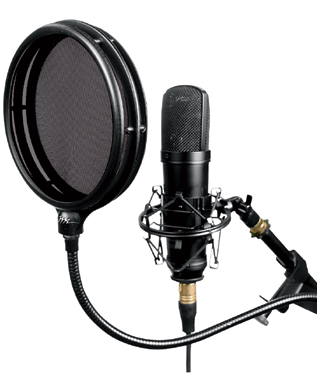 Middle Atlantic's Music Accessories line has the new Split Screen Pop Filter that uses Air Pressure Dispersion Technology™ or APDT--one of many innovations that make this screen very effective in filtering wind-caused plosives. While this new filter may look like a typical hoop style pop screen, upon closer inspection, it is easy to see that this is an all-new, reengineered design.
The Split Screen Pop Filter uses two, 90% Nylon screens that are fully washable. The two screens face each other and are in durable molded plastic surrounds with textured finishes and non-parallel internal surfaces said to prevent frequency resonances. The screens are separated by a one-inch air gap that's open on all sides. This air gap is key to the filter's efficiency. The first screen diffuses the main brunt of an air blast and then the middle air gap and surrounding openings vent the wind sideways. Finally, the second screen diffuses what little forces are left before hitting the mic.
The pop screen's dual surround has hardened threads and screws on to a thirteen-inch long gooseneck that easily conforms to any shape or position. The gooseneck stays in any position without a fight because it's of a dual-wound construction--a steel coil inside another steel coil. I found this feature wonderful for precisely positioning the screen just where I like it every time.
The stout, 1/8-inch steel c-clamp mounting bracket, called an Omni-Clamp, has a brass clamping screw with a knurled tension knob. The padded return adds extra grip and makes for easy attachment to most sizes of mic stands or booms without knuckle-busting tightening and without scratching. Both the Omni-Clamp and the gooseneck are coated in black, chip-proof E-Coat™ (an environmentally friendly electro coating) that is stronger than paint.
By far the easiest, simplest and most effective pop filter, I found it to take all the punch and energy out of the worst 'Ps' and 'Bs' consonants without also drastically removing the high frequencies. A must-have for studio vocal recording, voice-over or radio announcer work, the Split Screen Pop Filter sells for $45 MSRP. From Music Accessories by Middle Atlantic Products Inc. at 800-266-7225 or visit www.music-accessories.net
Barry Rudolph is an L.A.-based recording engineer. Visit his Web site at: WWW.BARRYRUDOLPH.COM