AKG C-451 B Condenser Microphone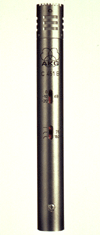 I have always loved the sound of the C-451 and later the C-452 small-capsule, condenser AKG mics. Sadly, AKG discontinued production of the CK-1 capsule used for these mics in 1994. The C-451 B cardioid condenser is a reissue of the ubiquitous C-451 EB with CK-1 capsule used in many studios worldwide.
New features include: built-in switchable -10dB and -20dB pads...the originals had attenuator pads that had to be "screwed on" between the CK-1 capsule and the microphone's body; switchable 12dB per octave high pass filters with a choice between 75 and 150Hz frequencies; and a new transformerless output that helps to increase the maximum SPL rating to 152dB. Both new switches are higher quality and easier to use than on the original C-452s.
Sensitivity is 9 mV/Pa and the C-451 B, like the original, runs on any phantom powering from 12 to 48 volts. Also like the original, the new C-451 B uses a sandblasted, all-metal, nickel-plated tube body but replaces the old decals (that usually rubbed off) with engraved symbols and markings.
Great for miking drums, percussion, acoustic guitars or orchestral instruments, the C-451 B sells for $549 MSRP and comes with an individually measured frequency response chart, SA 40 stand adapter and W90 foam windscreen. There are optional computer-matched pairs available along with the H 50 stereo miking bar.
For much more contact AKG Acoustics, U.S. at 914 Airport Center Drive, Nashville, TN 37217. Phone them at: 615-620-3800 or FAX to: 615-620-3875.
>



---