Line 6 PODXT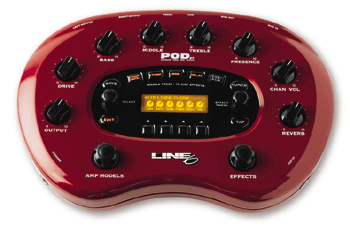 Line 6's depth of research and development is self-evident the first time you spin through the 64 presets in the new PODXT Guitar Amp Modeler. The preset names are evocative: the titles of seminal Rock songs of guitar-player gods are used to describe the sound of the amp, settings and effects modeled. A "who's who" of finished guitar sounds, preset sounds run the gamut from Angus to Yngwie with especially strong sounding Jimmy Page and Jimi Hendrix sounds. The PODXT takes guitar modeling to the future with more complete presets, deeper editing facilities and A.I.R. or Acoustically Integrated Recording where the interaction of amps, cabinets, speakers, microphones as well as the recording space are incorporated into the preset.
Maybe "POD Classic" would be a more fitting name because along with 32 models of mostly classic and boutique amps you get 22 cabinet models and 45 vintage stompboxes and studio effects. The ability to "mix n' match" amp tops with different cabinets; microphones and placements and room sound amount is new for POD. As before, PODXTconnects stereo or mono to your studio recording setup or directly to your amp for live work and now includes an USB digital audio interface that uses a free downloadable software driver. This is a bi-directional connection whereby (when MIDI and Editor/Librarian software becomes available in 2003) you may edit, load and save presets back and forth to your computer.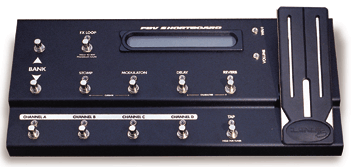 Studio effects include a collection of reverbs, distortions, compressors, chorus, flangers, plus rotary and delay effect models. PODXT is compatible with Line 6's FBV and FBV Shortboard foot controllers for control of the 64 presets using a large backlit name display, dedicated stomp box on/off switches, combination wah/volume pedal, and tap tempo switch.
The PODXT sells for $569.95 MSRP and for more information contact Line 6 in Agoura Hills, CA at 818-575-3600 or www.line6.com
---