Taylor Guitar Expression System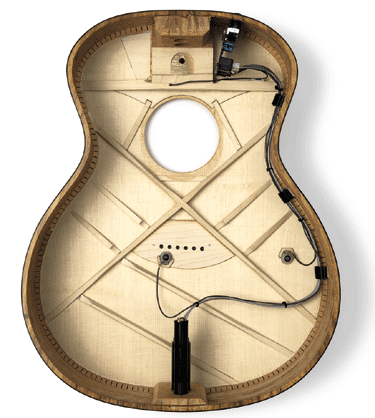 The Expression System acoustic guitar pickup and preamplifier combination was a collaborative effort between Taylor and legendary audio designer Mr. Rupert Neve. The design uses three different magnetic sensors to amplify an acoustic guitar in a more perfect way as compared to typical piezo-electric pickup schemes.
The three sensors, one positioned to pick up steel string vibrations and the other two capturing vibrations from the guitar top are connected to the Expression System preamplifier that's built using only special, high-end electronic components like those found in professional mixing consoles. Most noticeable to us, when we listened to a Taylor fitted with this system, was the greatly expanded dynamic range that enables every nuance to be clearly heard when the guitarist played quietly, yet still produced clean volume when the music called for heavy strumming. There was no distortion or 'piezo quack' ever--just good and loud acoustic tone and no feedback.
Another Taylor requirement was minimal impact on the look of the guitar after this system was installed. There are just three small, unobtrusive, soft-rubber control knobs (for volume, treble, and bass), and a tastefully designed oval-shaped plate at the tail pin. Removing a small round cover allows easy access to the two double-A batteries used to power the Expression System.
The Expression System is included in all 500 Series Acoustic guitars and above with instrument prices starting at $2,948 MSRP. At this time there is no after-market kit available for installation in your guitar. For more information contact Taylor Guitars in El Cajon, CA. Telephone 800-943-6782, or visit www.taylorguitars.com
---