Gauge Precision ECM-84K Stealth Stereo Microphone Kit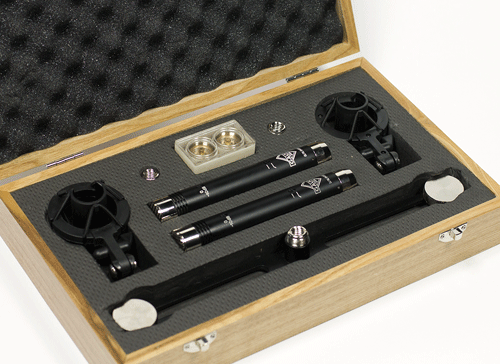 Gauge Precision Microphones' ECM-84K Stereo Microphone Kit celebrates Gauge Precision's 5th Anniversary. The ECM-84K is a pair of professional, small diaphragm, condenser microphones that are ideal for recording acoustic and electric guitars, drums and percussion. They are a matched pair for use for drum set overheads, pianos or capturing the sound of an orchestra or choir ensemble.
The ECM-84K microphones have a clear, natural sound and crisp presence peak centered at 5kHz and a full frequency range of 30Hz-20kHz. The ECM-84 Anniversary Kit comes with two cardioid and two omni-directional capsules that you can easily change (they screw on the microphone bodies) and both have -10dB pads and low cut filter switches.
This anniversary set comes beautifully packaged in a genuine hardwood box with standard accessories that include two professional shock-mounts, adapters and a stereo mounting bracket for accurately setting up an X/Y stereo coincident pair of cardioid microphones or spaced omni pairs.
For pricing and much more, check out www.gauge-usa.com.
---
Web Page design is copyright © 2014 by Barry Rudolph