Retro Instruments OP-6 Portable Amplifier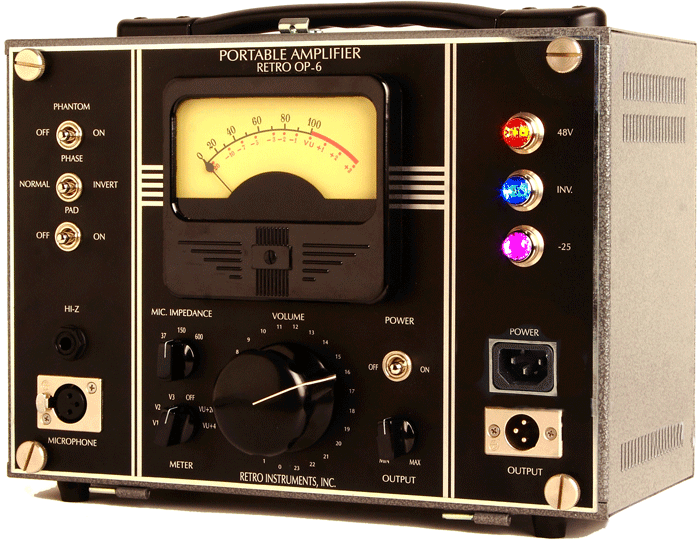 Retro Instruments, Inc., presents their first new product in three years: the Retro OP-6 Portable Microphone Amplifier. The OP-6 is a rendition of the classic portable RCA OP-6 tube microphone pre-amp that came out in the 1930s and was used mostly for remote on-location, live radio broadcasts. The original units had terminal strips for direct connection to high quality telephone lines going back to the radio station's studio/transmitter.
Later the RCA OP-7 4-channel mixer was developed when more than one microphone was required for larger venues and/or more elaborate productions. But it was the OP-6 that was used on some of the greatest recordings of the past, and many of these rare, coveted units are still in use today and sell for thousands of dollars.
With over 80dB of microphone gain, in its day the OP-6 (and now Retro's OP-6) are perfect pre-amps for low output ribbon microphones and/or recording quiet sources.
Retro's OP-6 sports five, 6J7 pentode tubes (the original had three) in a kind of "redundant" circuit design plus a solid-state rectifier (instead of a 6X5 tube) to power its all Class-A circuitry. It has the same size, look and 20-lb heft of the original yet fully modernized for today.
To augment the original design, Retro has added XLR connectors, a 1/4-inch (DI) high impedance instrument input, 48-volt switchable phantom powering, polarity flip, 25dB attenuator pad, output level control, and a VU meter ranging switch that doubles as a quick 'tube checker' for the three amplifier stages.
The original RCA OP-6 was noted as a wonderfully versatile pre-amp and the Retro recreation offers three choices of input impedance to match any microphone from vintage low impedance ribbons to modern condensers and dynamics. A front panel rotary switch selects different primary windings on a custom-wound input transformer of: 37, 150 and 600-ohms. Purposely mismatching impedances offers a range of tonality for any dynamic or velocity (ribbon) mics that contain internal transformers.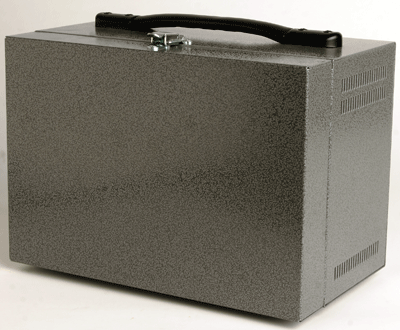 I first tried my Fender Strat plugged into the DI and found it to sound fat with the guitar's pickup switch position changes very hearable. Next I tried my AKG D12 VR dynamic (without phantom power on) on a voice and kick drum and the Retro OP-6's different impedance choices was like having several different mic choices under a rotary switch.
Next I tried recording vocals using both ribbon and condenser mics. There is plenty of gain to work with here if you are recording quiet singers on a low output microphone such as an Electro-Voice RE20. The sound is thick and warmer than my transistorized pre-amps but not 'dark' or covered sounding at all--more of a "glow"!
The cleanest sound is obtained by having the Output control full up and adjusting the large 'Volume' (mic gain) control to proper recording level. The VU meter ranging switch should be set at "VU+20"--meaning full-scale on the huge VU meter is a +20dB RMS level. I wanted to heat up the pre-amp by purposely overloading it--a sweet sound for sure by turning down the Output control and cranking up the Volume. The VU switch is set to "VU+4dB". I tried overloading the OP-6 with every source I tried it on. That ability along with the three impedance choices means you have many microphone/pre-amp sounds to be sure!
So the Retro Instruments OP-6 is like have a brand new RCA OP-6 in all its sonic glory with the integrity of the original circuitry but with modern reliability and the professional audio conveniences/features required today.
A great general purpose studio and awesome portable vocal pre-amp, the Retro Instruments OP-6 Portable Amplifier sells for $3,500 MSRP and for more information, check: www.retroinstruments.com.
---
Web Page design is copyright © 2014 by Barry Rudolph