Eventide Anthology II
Read Barry's Mix Magazine Feature Article On Compression and Compressors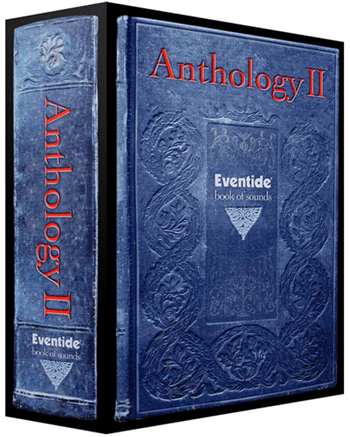 Priced at under $1,000 (street price), Eventide's Anthology II bundle is, by far, the best value going for a fantastic set of 15 TDM plug-in effects. For Pro Tools, this package has every plug-in Eventide has ever made and includes six new ones with many featuring 48-bit double precision. The six are: Ultra-Channel and E-Channel, configurable channel strips in both maxi (with micropitch shifting) and optimized versions; EQ65 Filter Set, an emulation of the 18dB/octave stalwart UREI notch/peak filter popular in post-production suites; the EQ45 four-band parametric equalizer complete with 12dB/octave high/low cut filters--another great version of a classic hardware unit; Precision Time Align is for lining up the phase relationship of separate tracks and Quadravox featuring four voices of diatonic Harmonizer pitch shifting.
Anthology II also comes with the nine plug-ins of the original Anthology bundle: the H910 and H949 classic Harmonizer pitch shifters, Instant Phaser, Instant Flanger, and Omnipressor are emulations of early Eventide hardware units from the '70's; the extremely useful and modern sounding Eventide Reverb; the eight-voice harmony generator Octavox; the eight-channel H3000 Band Delays; and the "roll your own plug-in" builder, the H3000 Factory. All these advanced plug-ins are based on the hardware H3000 unit.
It would be impossible for me to start any mix in Pro Tools without using one or more of these great plugs! I find them all remarkable in their ability to always provide just what I'm searching for an effect to accomplish. In fact, many times I get to take credit for an unexpected "accident" when I inadvertently apply an Eventide effect to a source I would never dream of effecting! This is true especially for H3000 Band Delays and Factory plug-ins. All the Eventide plugs impart their own distinct "vibe" that is impossible to duplicate with other plug-in or combination of plugs.
Anthology owners can upgrade to Anthology II for $299, and Clockworks Legacy owners may upgrade for $499. MassivePack, Octavox, Eventide Reverb or H3000 Band Delay owners may upgrade to Anthology II for $799. Check www.eventide.com.
---
Web Page design is copyright © 2006 by Barry Rudolph