HQ SoundOff Bass Drum Mute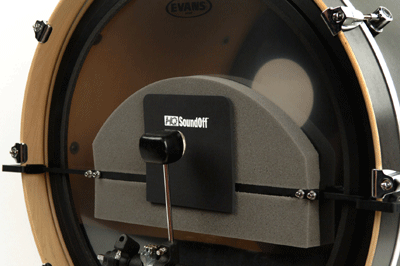 The world of all practicing drummers just got better with HQ's SoundOff Drum Mute. Drum mutes in the past always killed the feel along with the sound level but the SoundOff mutes reduce volume up to 95% and promote realistic practice sessions by allowing drummers to use their own drum sets. Instead of buying (and finding room for) a separate set of practice pads, HQ SoundOff Bass Drum Mute, like the rest of the line, have a unique attachment of clamps that lets it fit any kick drum from 16 to 26-inches in size.
All the popular HQ SoundOff mutes now come in newly designed boxed sets of mutes. In addition to the stock tom and snare mutes, each set features the new bass drum mute and the easy to put on and easy to remove crash cymbal mute plus the new 20-inch ride cymbal and 14-inch hi-hat mutes. Box sets are available in Fusion (10, 12, 14-inch sizes) and Standard (12, 13, 14, 16-inch) configurations.
For more information on HQ products, visit www.hqpercussion.com.
---
Web Page design is copyright © 2008 by Barry Rudolph