KRK Ergo Room Correction System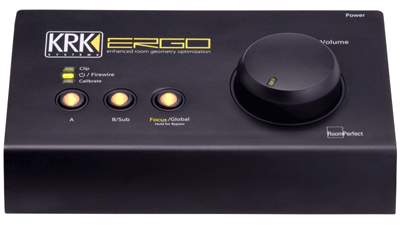 Ergo is a clever device that takes care of two important issues in the studio or any listening area: speaker and headphone monitoring control and speaker/room equalization. Looking like a simple, 6-channel (including sub-woofer) monitor controller with a large volume knob and both source and speaker switching facilities, Ergo is also a 4-in, 6-out Firewire audio interface that easily interfaces with PC or MAC DAW hardware and software.
Ergo stands for Enhanced Room Geometry Optimization and is compatible with all recording and monitoring systems. In addition to providing monitoring control facilities, it automatically carries out a detailed digital speaker/room analysis and then calculates and applies corrective equalization.
While connected to a PC via Firewire, Ergo performs its room analysis by guiding you to position the included measurement microphone in many different locations in your listening space. After playing sweep tones and arriving at a proper equalization profile, all the correctional processing takes place (with the unique parameters stored) within the unit itself and not (like software-based room correction systems) inside your DAW.
This unique feature means that Ergo functions standalone and works after room analysis is complete--you can use it with any sound system without the necessity of the computer attached. There are one thousand precision filters available for adapting and correcting virtually any mixing space from home-based digital audio workstations to professional recording studios.
With an MSRP of $799, Ergo analyzes and compensates for undesirable room acoustics which can negatively impact audio mixdowns. For more information, go to www.krksys.com or www.KRKERGO.com.
---
Web Page design is copyright © 2008 by Barry Rudolph