IK Multimedia's StealthPedal Guitar Audio Interface Pedal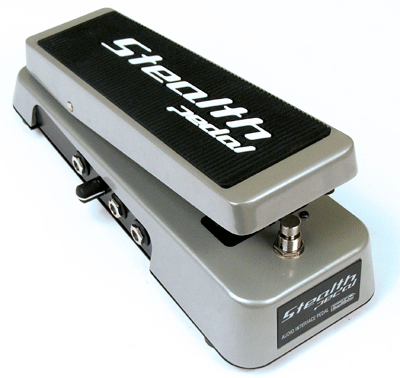 IK Multimedia's StealthPedal is a streamlined version of their Stomp IO™ footswitch controller only in a single wah-wah style pedal. It is a complete two-way USB audio/MIDI/controller interface for playing and recording guitar or any other instrument into your computer. Purpose-built for the road and using the finest components and circuit design, StealthPedal uses a software configurable input stage with a 109dBA low-noise amplifier for optimal audio quality. Running master quality 24-bit A/D and D/A converters at 44.1/48kHz, StealthPedal "talks to" and controls any of IK's "Powered by AmpliTube" software without additional setup. Plus, it can control any MIDI controllable software by using the included StealthPedal MIDI setup application.
For live or recording performances, I was pretty excited to get the StealthPedal going here at my Tones 4 $ Studios. My evaluation unit, the StealthPedal Deluxe, came with Amplitube X-Gear, Amplitube 2, Ampeg® SVX™, RiffWorks T4™ and Sonic Reality's AmpliGrooves Jam Loops plus all the drivers necessary.
I can report no configuration/installation issues and most importantly, no discernable latency--the pedal and playing guitar feel natural--exactly like playing through the world's largest, most expensive and complete guitar rig. The pedal has both a stereo input and a two-channel monitoring output that will drive powered speakers directly. You can plug in an additional third-party expression pedal and dual footswitch and then program their exact functions via the software. There is a status LED "stop light" to keep you appraised of SP's operation, and StealthPedal will work with most popular DAWs with its ASIO and Core Audio drivers.
I liked the smooth action of the pedal (all great wah-wahs come from Italy), the headphone jack for private use, and the whole system's instant player gratification. The SealthPedal is the fast track path to a nearly infinitely huge guitar rig that you can carry in a pack back along with a your laptop.
As tested for MACs or PCs, StealthPedal Deluxe sells for $449.99 MSRP. $269.99 gets you a StealthPedal with AmpliTube 2 Live, Ampeg® SVX™ Uno, AmpliTube X-GEAR, RiffWorks T4™ and Sonic Reality's AmpliGrooves Jam Loops. Both versions include a free download of AmpliTube Metal. For more information, visit: www.StealthPedal.com.
---
Web Page design is copyright © 2009 by Barry Rudolph