Kelly SHU™ Kick Drum Microphone Shock and Isolation System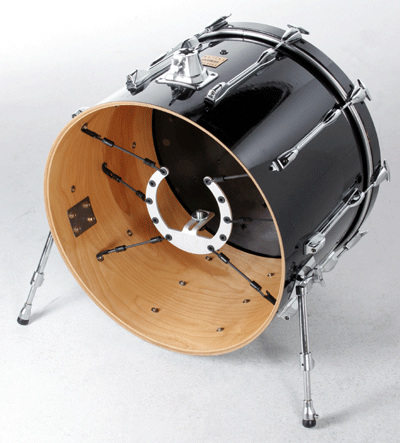 Another "why didn't I think of this" product, the Kelly SHU™ positions, holds and isolates any kick drum mic either inside or out in front of any size bass drum. Great for live stage sound, the entire mount attaches to the drum and stays with the drum when moving it--always keeping the microphone in the sound engineer's "sweet spot" ready to go.
The advantages continue in the studio where, like in live stage use, you'll save a mic stand--important around a multi-miked drum kit where floor space is at a premium. Most kick drum mics do not come with shock mounts so the Kelly SHU™ adds that sorely missed feature.
I tried out the horseshoe-shaped Kelly SHU™ here at my Tones 4 $ Studios. The kit includes mounting hardware to either suspend the SHU inside the drum with straps pinned to the hardware screws or out front using the same straps and included clips that hook on the front head's lugs. Installation is semi-permanent and can be removed without any drum shell damage. I went with out front of the kick where I like to push a Sennheiser E902 mic through the front head's hole just so the mic's grill only is inside the drum.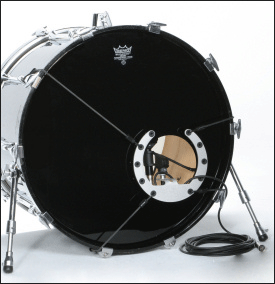 About three feet of elastic cord is provided--enough to cut up to eight suspensions that will position the SHU in any location from the exact center of the drum's diameter to any offset position where most front head holes are cut. The SHU has ten holes with grommets around its perimeter to facilitate exact positioning. I found installing it easy although it takes some adjusting and fiddling to get it just perfect.
The microphone mount comes threaded for a standard mic holder and the entire mount slides on a guide for about three inches of travel in and out of the drum. Some mics may require a short extension to allow for the XLR connector or for pushing the mic further inside the drum.
Of course the sound is wonderful! The isolation is perfect--I'm not hearing any errant thumps (caused by other mic stands or drum hardware hitting the kick drum stand) on the kick drum track when I solo it during mixdown. Why didn't I think of this? The aluminum Kelly SHU™ kit sells for $99.95MSRP while the composite version (as tested) sells for $51.95. Buy either at: www.kellyshu.com or at any of the dealers listed at the Web site.
---
Web Page design is copyright © 2009 by Barry Rudolph