Fab Four FAQ 2.0 from BackBeat Books


Read Barry's Review Of Fab Four FAQ: Everything Left to Know About the Beatles--And More!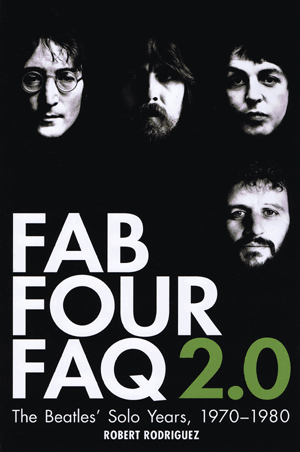 The complete title, Fab Four FAQ 2.0: The Beatles' Solo Years, 1970-1980 by Robert Rodriguez, is a continuation to his and co-author Stuart Shea's highly successful Fab Four FAQ: Everything Left to Know About the Beatles--and More!, It frames that decade with the two most significant events in Beatle history: the break up of the band in 1970 and John Lennon's murder in 1980. But Rodriguez' writing style prevents these tragedies from overshadowing the story and making this a morose read. Fab Four FAQ 2.0 is a celebration of the careers of all the Beatles as separate, solo artists.

Three-Minute YouTube Video

A book that ties up a myriad of loose-ends, threads, false rumors and erroneous press writings, FFF 2.0 digs deep into post Beatle band lore with stories, quotes, stats, trivia, arcane photos, and hard information covering the background, reasons, and career arc for each of the former Beatle members.

As a collector and reader of most all the worthwhile Beatle books out there, I found that Rodriguez scores again with his chapters specifically written to inform and answer big questions for me such as: the breakup's effect on each Beatle; memorable and not so memorable solo appearances; each Beatles' forays into film making; and the working circumstances the large cadre of songwriters, artists, musicians and business people orbited each of the Beatles.

I found the Fab Four FAQ 2.0: The Beatles' Solo Years, 1970-1980 a fascinating book that filled in more blank spaces than I could ever cover here and makes a tremendous addition to my collection. It and Rodriguez' and Shea's first FFF book combine to make one of the most comprehensive studies of the Beatles written in a scrutinizing yet respectful way--without the filtering effect of "a hidden agenda" I've found in so many of the newer books.

Fab Four FAQ 2.0: The Beatle's Solo Years, 1970-1980 sells for $19.99 and is published by Backbeat Books, an imprint of Hal Leonard. It's available through Music Dispatch at www.musicdispatch.com.




Fab Four FAQ2
---
Web Page design is copyright © 2010 by Barry Rudolph