Peavey/Agile Partners AmpKit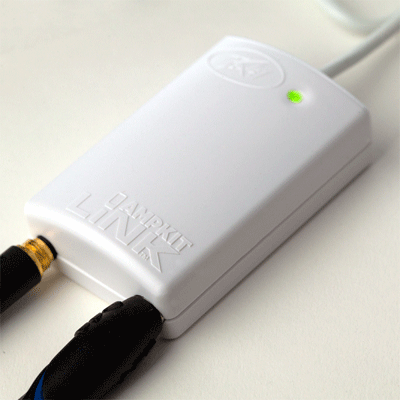 Peavey Electronics and Agile Partners have come up with a system to turn your iPhone/iPod Touch or iPad into a guitar and/or bass rig. There are two parts: the AmpKit App and the AmpKit LiNK interface unit.

About the size of small box of wood matches, AmpKit LiNK simply connects to you iPhone/iPod Touch or iPad with a short cable and provides a 1/4-inch jack for your guitar and an 1/8-inch mini jack line-level output to your stereo headphones, powered speakers, PA or recording system. The CrossTalk Eliminator solves the feedback problem inherent in existing non-powered iPhone interfaces. AmpKit LiNK can be used with any recording, processing, or tuning applications.

The AmpKit app is downloadable from iTunes starting with the free version that includes Peavey's ValveKing® amp. There are loads of downloadable gear additions--you can build your own collection of: amps (12 amps and 19 amp channels), stomp pedals (16), speaker cabinets (13), microphones (8). These are all modeled after the actual circuitry. The app also includes a tuner, metronome and backing tracks you can play along with the option to upload your own. Your guitar signal is recorded both dry and with effects making it ready for "re-amping" later, either in AmpKit or in your DAW.

My AmpKit testing went perfectly. I like the way it sounds and the GUI is simple to use with all amp and pedal controls arranged as "fingerable" faders. It's easy to build rigs from the default starter template and save them for recall. There is a Help section with suggestions, user feedback, and "bug" reporting. It would be nice if the factory presets were more even in level output but after saving my versions of most of the presets, I was smiling a lot with this cool gadget!

The AmpKit LiNK guitar interface sells for $39.99 and the AmpKit app basic is free with additional gear costing anywhere from $0.99 to $6.99 each. AmpKit+ at $19.99 includes three additional amps, four more cabinets and eight additional pedals. I'm starting to use it in my sessions when there is no time to set up and "produce" a cool guitar sound--it's instant now. Check out: www.peavey.com/ampkitlink and www.ampkitapp.com.







---
Web Page design is copyright © 2010 by Barry Rudolph