Cerwin-Vega! XD3 Powered Desktop Speakers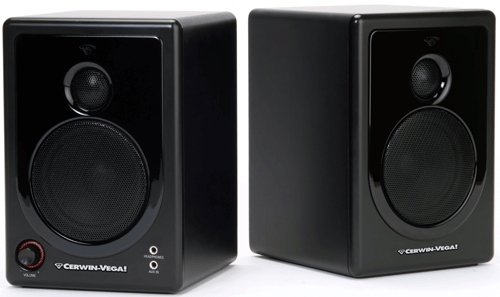 Cerwin-Vega!, part of the Stanton Group, has introduced the XD3 powered desktop speakers; stereo speakers that will fill your small studio or office space with a big, fat sound that belies their 8 x 5.5 x 6.5-inch size.
I connected a pair of XD3s to my Mac G5 office computer and I was blown away with how warm and toasty they sounded. These don't sound shrill, over-bright and tinny like most small computer speakers. I placed them on either side of my monitor screen--about 2 feet apart right on my desktop. I also placed a "wedge" under the front of them to angle them upwards to point the tweeters at my ears--a hockey puck works well for this plus the speaker's bottom is covered with a rubberized, non-skid surface to assist in this technique.
The XD3s come with all the cables you'll need to connect them to the 1/8-inch mini output jack of your computer, iPhone, iPad or iAnything. I liked that they do not use a pesky wall-wart power supply--the system's power supply, along with the dual, low noise 15-watt/channel power amps, are contained within the left speaker cabinet. Simply connect the right speaker using an included length of 20-gauge zip cord wire.
Both cabinets have rear-firing bass ports and are made from matte black vinyl covered wood and dressed up with a gloss black front sporting the Cerwin-Vega! logo in silver. The 3-inch woofer and 3/4-inch tweeter drivers are magnetically shielded for non-interference operation around computer monitors or television screens. The drivers use a passive crossover and there is a rear-panel Vega-Bass Selector switch that 'turbo boosts' the low frequencies. This boost is a good option to use if the speakers are placed far apart (more than six feet) and/or not sitting on a surface such as your desk or a bookshelf--or if you just like a lot of bass.
Another good idea that I use everyday is a front panel auxiliary input jack to hear music directly patched from my iPhone. The XD3s come with an extra stereo patch cable for this and the iPhone's audio mixes with whatever is already playing coming in on the main stereo input--my computer's audio in my case.
I also liked the lit up volume control knob on the left speaker so I can always find the volume in a dark room. Also thoughtful is the XD3's stereo headphone jack: when phones are plugged in, the speakers mute so that the headphones then use the XD3's amp and volume control--simple and clever. Plus the XD3 amp sounds better than the iPhone's and the phone's battery is not drained as quickly.
Get yourself a pair of Cerwin-Vega XD3 speakers for $99.99 MSRP and check out: www.cerwin-vega.com.
---
Web Page design is copyright © 2011 by Barry Rudolph