Mixing Secrets For The Small Studio from Focal Press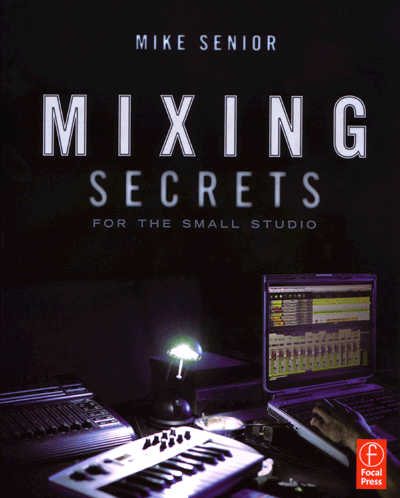 The complete title, Mixing Secrets For The Small Studio, is the most useful and comprehensive book I've read on the labyrinth subject of mixing music. Although the book focuses on obtaining professional and competitive mixes in small personal or project studios spaces, the information applies to mixing in any space from multi-million dollar, pro studios to makeshift home setups.
Author Mike Senior is well equipped, with his experience as engineer, producer and journalist for Sound-On-Sound magazine to guide any reader, with an intermediate to advanced understanding of the studio recording and mixing process, through four main sections. Senior "makes real" the ideas, concepts and processes discussed by including quotes from a long list of successful engineer/producers who represent the pantheon of current music makers of our time. The source of these footnoted quotations are listed in an appendix section that also includes these "who who's" discography, all picture credits, and a detailed index. Additionally, there are informational references with specific links provided to: www.cambridge-mt.com (index root).
Logically the book's first section is about hearing and listening and the tools and methods you'll use. From the actual listening space and its major affect on getting good results from using near field monitors to using other monitoring methods to check your work, this is an excellent treatise that sets straight many myths and misunderstandings.
Mix preparation is covered in the next part and lays out remedies for many of my "pet peeves" about the way song files come to me for mixing here at my Tones 4 $ Studios. In a perfect world, this section should be required reading for any would-be, nascent music producer. Proper mix prep leads to better mix results and without it, often the music suffers by being unmixable. This section also has a brilliantly laid out discussion about compiling different performance takes and correcting the tuning and timing of music tracks. Whatever your opinions are about these now "standard operating procedures" in Pop music production, be prepared to be enlighten to a greater or lesser degree after reading Chapter 6.
The third part of the book gets to actually mixing music. Mixing is probably the most difficult aspect and least educable part of recording engineering. Beginning mixers struggle with the specifics of how and where to start mixing a song. Senior offers many different views and methods as practiced by the pros but, for the beginner, he gravitates towards starting with the loudest elements of a Pop song first--namely things like the drums, bass, vocals and main chord instruments. Compression, equalization, and other types of more sophisticated processing are covered here with the purpose establishing a "fluent and stable balance."
The final part of Mixing Secrets For The Small Studio is about sweetening--using time-based effects such as reverbs and delays, bus compression and automation. One important aspect is referencing your mix along side commercially released CDs. While nobody is trying to copy anybody else's work, mixing all day and night in a studio is by nature an isolating job that requires a reality check now and then. Many good examples of current and popular CDs are given throughout this book to "reference" each step in the mixing process.
Mixing Secrets For The Small Studio is a huge "must have" for me that I will re-read from time to time and I cannot recommend it more. From Focal press, it sells for $39.99. More at www.focalpress.com.




Mixing Secrets For The Small Studio
---
Web Page design is copyright © 2011 by Barry Rudolph