JZ Microphones Pop Filter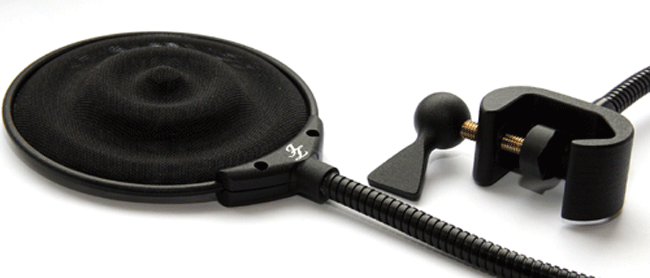 The state of the art in wind and pop filters for vocal microphones moves forward with Lativia-based JZ Microphones' latest design. Shielding any mic from a singer's p-pops has always been a compromise between foolproof protection and minimal sound loss--mostly in the high frequencies.
The JZ pop filter has black metal front and back screens; they are fine, cross hatched meshes that are rotated somewhat (polarized) from one another. Furthermore the screens each have especially designed and complimentary contoured wave shapes (smoothly shaped hills and valleys) embossed into them. The front and back screens are locked in an exact distance with a center post than acts as the center aiming point for the singer to point at the mic's capsule.
Plosive bursts of air are trapped within the two screens and are effectively reduced or eliminated altogether. And it does all this without changing the sound because the screens are acoustically transparent.
I tested the JZ Microphones Pop Filter while using the new, smaller diaphragm Shure Beta 181 condenser mics. Smaller diaphragm condenser mics are the 'worst-case' test for a pop filter as I find them even more sensitive to popping than larger diaphragm mics. It is amazing to me that as hard as I intentionally p-pop, nothing is heard--at the most, the sound of my lips and mouth are there but no low frequency thumps at all.
The JZ Microphone Pop Filter is minimal in size and easy to attach and position onto any mic stand or boom using the attached 45-mm gooseneck and its simple clamp mechanism. One of those "must haves" around the studio, the JZ Pop Filter sells for $139 MSRP. And for more information, visit JZ Microphones at: www.jzmic.com.
---
Web Page design is copyright © 2011 by Barry Rudolph