Shure SRH550DJ and SRH940 Pro Headphones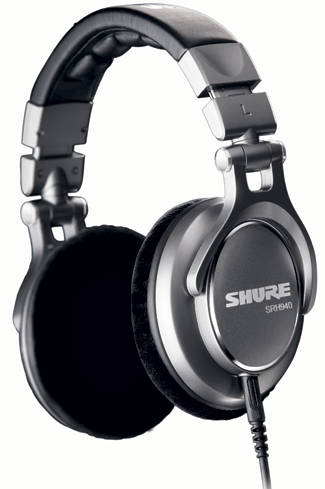 The two new additions to the Shure headphone line are all-pro models: the SRH550DJ for DJs and the SRH940 for the audio engineer. The 940s are optimized for critical listening, studio monitoring, and mastering. But that doesn't preclude using either set for everyday listening as you normally would. Just know that you'll be hearing your music at a whole new level of detail, quality and scrutiny with these new headphones.
Both these SRH headphone models sound wonderful and are the most comfortable yet--they are designed for wearing for long periods--as you'd expect DJs and all audio pros demand.
The SRH550DJ have 50-mm dynamic drivers with neodymium magnets that deliver an extended bass response. The drivers use a supra-aural design (they rest on top of your ears) plus they swivel 90-degrees for off-ear cueing. The SRH940 Professional Reference Headphones (received for review here) have a super accurate frequency response with a tight bass and smooth, high-end extension with minimal distortion. They have 40-mm neodymium drivers and a circumaural design (they cover your ears) for added sonic isolation from outside noise.
Both new phones have collapsible premium padded headbands that are lightweight for extended listening and both come with threaded, 1/4-inch to 3.5-mm mini-jack gold plated adapters.
I already have a pair of Shure SRH840s that are my main headphones--my "first call" to check my music mixing balances and sound. I find them to never "lie" to me. The new SRH940s take that process to the next level: I hear even more accurately with very subtle nuances made amazingly lucid. I find, by comparison to the 840s, the 940s to have slightly less bass--a trade-off for increased clarity--and that is very important to me while setting up panning, effects, checking EQs, and setting the overall "size" of the song's mix.
For me, figuring out the low frequency mix (size, color, placement, dynamics, sound quality and more) of modern Pop music has always been a multi-step process with checks on different music playback systems and on multiple speaker systems including several different headphones and ear buds.
The 940s, now my main headphones, are used for all these critical listening checks everyday. The 840s, now my second pair, are issued to producers and vocalists for general listening and overdubbing here at my Tones 4 $ Studios.
The SRH550DJs sell for $149 MSRP and come with carrying bag. The SRH940s sell for $375 MSRP and include two detachable cables (straight and coiled), a replacement set of velour ear pads, and a zippered, hard travel case. Much more at: www.shure.com.
---
Web Page design is copyright © 2011 by Barry Rudolph