KRK 12sHO Powered Subwoofer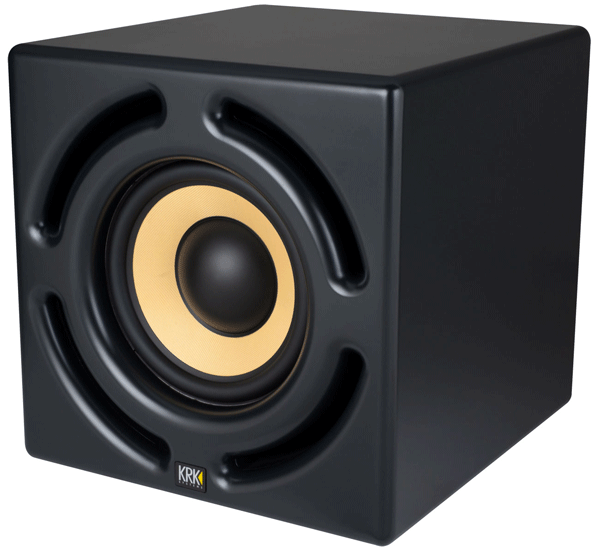 I've always been a no subwoofer guy; an 'old school' stereo music mixer but after checking out the new KRK 12sHO powered subwoofer, I want to change all that--NOW! KRK's new 12sHO and the earlier 12s models are two ways ready to bring change now.
While my stereo powered main monitors are accurate and I know their sound well, some of my clients and certain current and popular musical genres demand more 'physicality' in the low frequencies--especially at high monitoring volumes when the woofers in my mains start to overload.
An ideal match for KRK's Expose® E8B or VXT®8 monitors, the 12sHO will extend the low frequency range of any brand of monitors down to 29Hz in an accurate and effortless way and at any listening volume.
The KRK 12sHO measures 20H X 20W X 22.5D inches and weighs in at about 109lbs; it has a 12-inch driver with a woven Kevlar cone designed for high excursion. I liked the curved corners and the look of the unit's front: the driver is fully exposed and surrounded by four concentric ports. There is a 400W RMS internal amp with a peak SPL of 123dB and a signal to noise ratio of 92dB.
The 12sHO is totally flexible with two ways to connect it to your existing system. On the back panel are a pair of balanced in/out Combi XLR jacks for the L/R signal input (the stereo signal has to pass through the 12sHO to channel the subsonic energy only to it and not also your monitors) or if you mix in 5.1 or 7.1 surround sound, there is a single LFE channel input jack.
Rear panel controls are: the low-pass filter control sets the KRK 12sHO's frequency range from 29 to 160Hz, LFE input gain, on/off peak protection switch (I leave it off unless I'm not there), a ground lift, and both a phase reverse switch and variable phase adjust for proper subwoofer integration into your existing stereo system. The manual and the KRK Web site is very helpful here--a whole new area for me too!
I especially liked the lighted bypass footswitch jack and cable--a small thing but useful for some of my clients who are new to low frequency extension now possible in my Tones 4 $ Studios!
For additional information on KRK's powered 12sHO and the 12s subwoofers, check: www.krksys.com.
---
Web Page design is copyright © 2012 by Barry Rudolph