KRK Rokit RP10-3 Three-Way Powered Monitors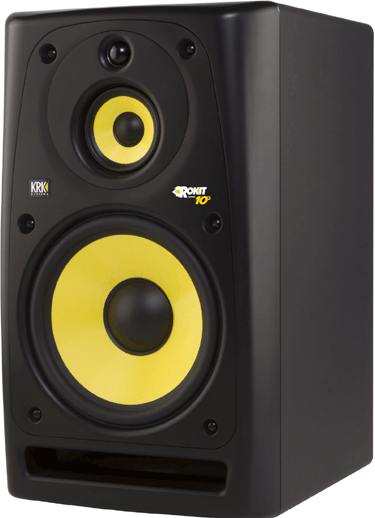 The new RP10-3 is KRK's first three-way, powered monitor ever and it is specifically designed for mid-field use in pro and project recording studios, mobile rigs and broadcast facilities--basically anywhere!

The KRK RP10-3 uses a 1-inch soft dome tweeter with a neodymium (rare earth) magnet, a 4-inch mid-range driver, and a 10-inch woofer driver. Both the mid-range and woofer use KRK's distinctive yellow, glass aramid fiber composite cone material. This super-rigid cone material ensures excellent audio transient response.

Totally unique (as far as I know) for this new speaker is the Axis Control feature. The tweeter and mid-range drivers are mounted in the cabinet on a circular, rotating 'turntable' module. By removing a few front panel screws, this module swivels 180-degrees so that the acoustic axis plane of these drivers is properly aligned when using the RP10-3s horizontally--side-ways on top of the meter bridge of a pro recording studio console. This feature is useful for any situation where a tall monitor speaker might block the sight line.

In place of my main monitors, I set up a pair of RP10-3s in the standard, vertical position (as pictured) here at my Tones 4 $ Studios. They hook up easily because they have three ways to connect them: both XLR and TRS 1/4-inch balanced inputs and also an unbalanced RCA jack. These are called mid-field monitors and should be placed anywhere from 1m (39.3-inches) to 4m (157.5-inches) from your listening position. My studio main monitors are on Sound Anchors Speaker Stands at the corners of an equilateral triangle 42-inches on a side--the listening position at 42-inches is just within the recommended distance.

These are impressive-looking speakers! They are large with rounded corners and a large rectangular reflex port on the front. They measure: 21.2H x 12.7W x 14.3D inches and weigh 46lbs each.

Like their physical presence, I found them to sound huge, loud, clean and clear! There is a separate power amp for each driver with an active three-way crossover system. Being powered speakers, they have built-in thermal and overload protection so you'll not worry if the party (and the sound level) ever gets too raucous!

I liked the numerous and very specific rear panel controls for dialing in just the way I wanted them to sound in my studio. These controls are for dealing with acoustically bright rooms with hard floor and/or wall surfaces as well as for boosting or cutting low frequencies--bass buildup is a common problem in small listening spaces. But right out of the box they had an accurate subsonic level and more available (if I wanted) than my mains which cost about 8 times as much!

Controls include: a volume control with a range of -30 dB to +6 dB, high frequency level with -2dB, -1dB, 0, +1dB positions, and a low frequency level control with -2dB, -1dB, 0, +2dB positions. Other specs are: frequency response is rated at 31 Hz to 20 kHz at 113dB max SPL; S/N ratio is 98dB; THD (that's Total Harmonic Distortion) is specified at 0.01%; and the crossover frequencies are low frequency to mid-range crosses at 350 Hz and the mid-range to high frequency range crosses at 3.5 kHz.



KRK Rokit RP10-3 three-way monitors sell for $499 each and they are perfect for any audio work or play. More at: www.krksys.com.



A Pair Of KRK Rokit 10-3 Monitors With Their Tweeter/Midrange Modules Rotated For Left/Right Horizontal Placement
---
Web Page design is copyright © 2012 by Barry Rudolph