Line 6 Mobile Keys 25 & 49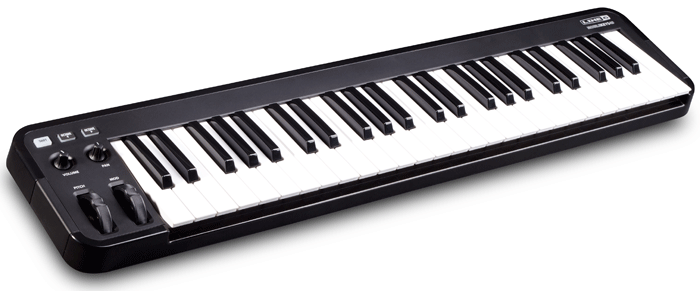 Line 6's new Mobile Keys are both super-portable and as small as a keyboard controller with full-size keys, and both modulation and pitch bend wheels can be. Both the Mobile Keys 25 and 49-key versions are slim keyboards powered directly by either the included USB or the 30-pin docking cable used to connect to Apple's iPad, iPad 2, iPad 3, iPod touch 3G and 4G, and iPhone 3GS, 4, and 4S.
The Mobile Keys controllers work with any Apple's iOS apps that support the CoreMIDI standard, including Apple GarageBand® and numerous drum machines, synthesizers, and virtual instruments. They also work the same with any class-compliant USB MIDI input device for modern MACs and PCs. Gone and in my rear view mirror are those pesky drivers I had to install and/or keep updated! Here and now is the collection of good and musical iOS apps that gets better, more powerful and lower priced everyday.
I received the Mobile Keys 49 and it worked instantly as soon as I hooked it up to my Mac's USB running Pro Tools HD 10.2 (OS 10.6.8). I did nothing but call up an instrument track and I was playing--this cannot be any easier. I then played a bass guitar patch on my SampleTank® Free app in my iPhone 4S and it works the beauty.
I also like the advance features offered by holding down the Shift function button and pressing certain keyboard keys. Mobile Keys have 1/4-inch rear mounted jacks for expression and sustain pedals and the MIDI Volume and Pan pots are positioned left of the keyboard. Both these controllers use minimal power from your iOS device to keep you 'jamming' longer--a smart design just like the octave up/down buttons that only light up when the keyboard is out of standard range.
The Mobile Keys 49 controller is about 32-inches total length and 7-inches in depth and I expect to see more of these (or the even shorter 25-key version) sticking out of backpacks of my music/engineering students. The Mobile Keys 25 sells for $149.99, and Mobile Keys 49 is $199.99. More at: line6.com/mobilekeys/features.
---
Web Page design is copyright © 2012 by Barry Rudolph