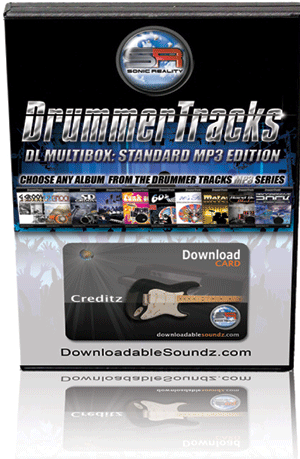 Drummer Tracks are collections (albums) of drum grooves in song form with intros, verses, B sections (pre-choruses), choruses, bridges plus turnarounds, fills and breaks. They are taken from the same sessions Sonic Reality has done for products like Drum Masters 2 and EpiK DrumS - A Ken Scott Collection. Recorded drummers include: Bill Cobham (Mahavishnu Orchestra), Terry Bozzio (Missing Persons), Jerry Marotta (Peter Gabriel), John Blackwell (Prince), Nick D'Virgilio (Tears for Fears), Ed Greene (Steely Dan), Bob Siebenberg (Supertramp), Rod Morgenstein (Dixie Dregs), and Woody Woodmansey (David Bowie).
Like modern versions of the old Drum Drops vinyl records from back in the day, DrummerTracks come as 44.1kHz, 16-bit .wav files or high quality MP3 files ready to play in your computer, iPhone™, iPod™, mp3 player, DAW or media player. They are inspirational for writing new songs because, unlike a boring drum machine or an incessant loop, there is life here with a certain "ebb and flow" caused by true human tempo and dynamic fluctuations. The dynamic variations create excitement because these are recordings of pro drummers playing their real kits in great sounding top studio recording spaces.

There are currently ten new DrummerTrack titles and each sell for $29.95 (Standard MP3 version) and $49.95 (Pro Wave version). They are titled: LZ Grooves (Led Zeppelin style and sound); '60's Rock; Progressive Rock; B Grooves (Beatles style and sound); Big Band; Pop Country; Motown; Funk Soul; and SD Grooves (Steely Dan style).
I received all ten collections or albums for evaluation. They are each titled cryptically with funny double entendre names--so you'll know what song the drum part was copied from. Within each category the sound and playing intensities are very closely matched (up tempo tracks match together) so you could "cut and paste" (after tempo-stretching) verses from one song to the choruses of another etc.
For drum tracks with even more live feeling, each collection includes a folder of two to four Bonus Live Tracks--drums played live not to a click track. A lot of the LZ Grooves are compressed viciously and Levee Beat is way over the top. B Grooves are a dryer and tighter sound that follows those Liverpool songs well. In the Funk Soul album the Bonus Live Tracks folder has Stacks of Soul--a drum track that sounds lifted from the '70's hit record and black exploitation movie Shaft. I found lots to like in all these albums of drum tracks and they are just fun to play and play along with--the most important things for me.
For instant gratification and making up song sketches quickly, these Rock! I should think you'd want all ten albums--why limit yourself?
Lastly, Sonic Reality also has an app for the iPhone® that includes 10 songs from the Drummer Tracks™ range for only $1.99, The interface has speed control, count in and instant endings. For much more information, check out: www.drummertracks.com and www.sonicreality.com
---
Copyright © 1994-- By Barry Rudolph All Rights Are Reserved.