Flux Sound and Picture Development in partnership with IRCAM (Institute for Research and Coordination in Acoustics and Music) in Paris, France has T.R.A.X. T.R.A.X is a set of plug-ins for VST, AU, or RTAS DAW hosts that offer complete manipulation of pitch, timbre and duration of monophonic vocals or percussion instruments or polyphonic instruments such as keyboards etc.
Because the precise alteration of the sonic "DNA" of vocals and musical instruments is complex, T.R.A.X.'s Transformer plug-in is divided into modules to specifically configure the software processors to most efficiently achieve whatever you imagine. Although there are some great starting point presets, to get the most value out of this deep plug-ins, you'll have to "woodshed" with the manual.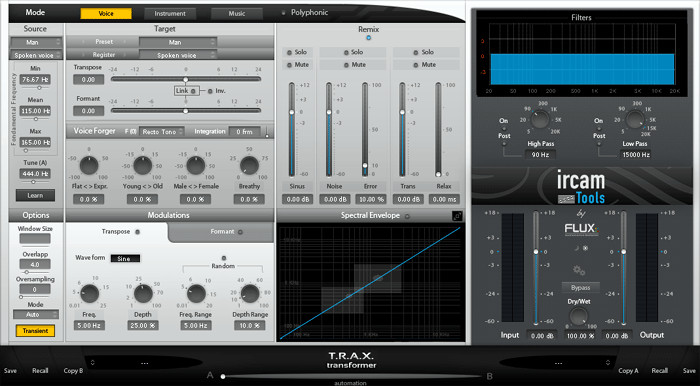 After the input sound's Mode is decided upon, the Source module further defines and splits it into Pitched Content, Noise, and Transient components. The Target module integrates a portion of the source audio to allow for a Real-Time Fast Fourier Analysis with the intent to change both pitch and formants. I liked the sub module called VoiceForger where a vocalist's age, gender, pitch center, and breathiness can be freely altered.
The Remix module allows for the reconstruction of all the sonic components now made totally malleable in Transformer. I loved rebalancing the pitched component of a vocal against the transient or noise parts. Brilliant!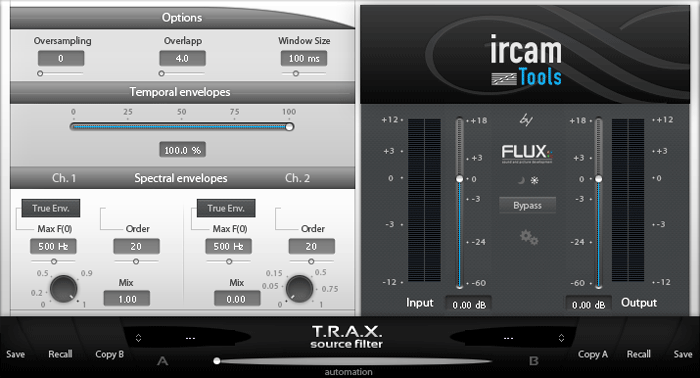 After Remix comes a complete mastering equalizer module--it's basically a high/low pass 6dB/octave filter. The Options module is a way to optimize the plug-in's use of the CPU resources of any host. In Pro Tools, this plug-in is beyond the ability of its Automatic Delay Compensation engine at 9600 samples latency (256 samples buffer setting) so I would process vocals off-line and then "slide" them back in time with the session. This huge latency is only a problem with Pro Tools--other host programs handle Transformer's processing delay fine.
Transformer also has a great Modulation section much like a synth's except you can also modulate formants and, that if that is not freaky sounding enough, try using the Spectral Envelope Mapper to reorder the natural placement of the first and second formant groups of the human voice.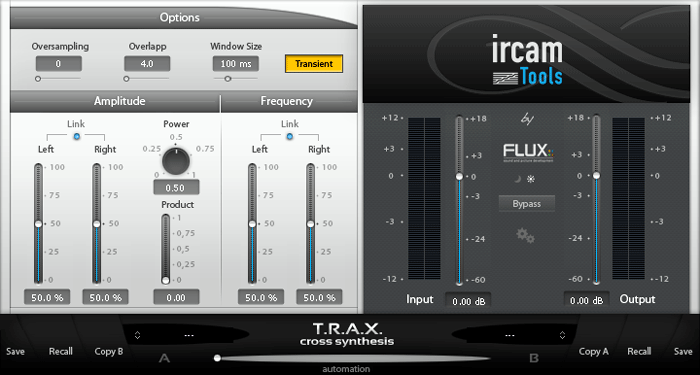 Lastly, there is a cool-looking I/O section with peak meters and Input and Output faders. All Flux plug-ins have eight inputs/outputs but T.R.A.X also comes with two additional plug-ins for stereo sources only. There is a Cross-Synthesis plug that determines and modifies the way the left and right channels are used and a Source Filter--an advanced vocoder. They both offer way more possibilities than I can cover here!
IRCAM Tools T.R.A.X. sells for $499 and more information is available from www.fluxhome.com/products/ or through your local dealer or their U.S. sales representative at www.audiosage.com.
Check Out: Flux T.R.A.X. Videos
---
Copyright © 1994-- By Barry Rudolph All Rights Are Reserved.