When combining the capabilities of Focusrite's OctoPre MkII Dynamic and Saffire PRO 40 units you create an undeniably great system that'll record up to 16 microphones to 16 tracks and provide complete studio monitoring and two headphone mixes using a latency-free direct software mixer.
The single rack space Focusrite Saffire PRO 40 (reviewed here at Gear Lust) is a Firewire audio/MIDI interface with complete control, routing and latency-free direct monitoring and headphone mixing facilities via an included 18 X 16 virtual mixer/routing software program called Saffire PRO 40 MixControl.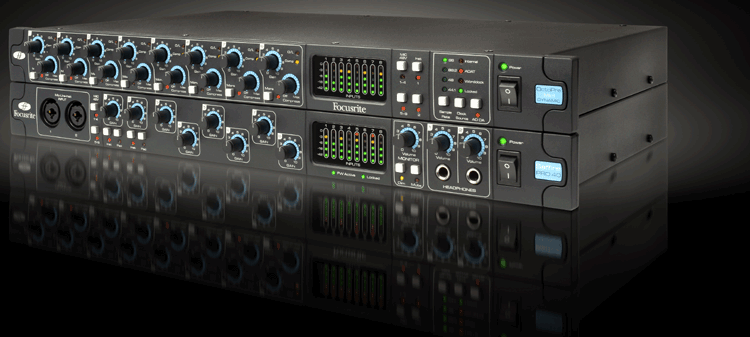 The MixControl virtual mixer interfaces with the Saffire PRO 40 over a Firewire cable, and allows the use of any of the plug-ins from the Focusrite Plug-in suite. You can run these plug-in processors right along with any DAW sequencer. Focusrite's established Xcite+ bundle along with Ableton Live Lite, Novation's Bass Station soft synth and over one GB of royalty-free samples are included.
Enter OctoPre MkII Dynamic
Although it runs standalone, the single rack space OctoPre MkII Dynamic will work as an expansion module to the Saffire PRO 40 or any other current DAW system. The OctoPre MkII connects to the Saffire PRO 40 using an ADAT Lightpipe fiber optic cable.
OctoPre has eight of the same award-winning Focusrite microphone pre-amps as in the Pro 40. These single knob pre-amps have up to 60dB of gain and less than 0.001% distortion. All pre-amps have switchable phantom powering and Combi XLR/Instrument input jacks.
OctoPre has the same digital conversion system as Saffire that features JetPLL™ jitter elimination technology but the OctoPre adds dual ADAT Lightpipe I/O spigots, and professional BNC clock In/Out jacks. OctoPre MkII functions up to 24-bit/96kHz using two Lightpipe connections (Channels 1-4 are on one socket and Channels 5-8 are on the second one). There are also the same eight, Combi XLR mic/instrument inputs and eight 1/4-inch balanced analog output TRS jacks as the Saffire Pro 40.



Around on the front panel, OctoPre shares the same multi-channel LED VU meter as Saffire and includes pushbuttons for: phantom power on/off, instrument switching for inputs 1 and 2, sample rate selection, clock source (internal, Word clock, or from the ADAT Lightpipe) and the new AD DA switch which routes (after digital-to-analog conversion) the eight-channel ADAT input directly to the eight analog outputs. ADAT Lightpipe D-to-A conversion via AD DA is a handy facility to have around any studio or for live sound work.
The OctoPre MkII Dynamic goes on to add eight VCA-based Focusrite Red 3-derived compressors on each microphone pre-amp. These soft-knee compressors are easily set with just one knob and a More button switches the fixed compression ratio from the default 2:1 to 4:1. Any style of compression—from subtle and gentle to hard and aggressive sounding is possible with these utilitarian compressors.
I like the simple signal present yellow LED and the overload red LEDs on each compressor because, in the heat of a sometimes frantic recording session, they are easy to spot even from across a well-lit room. Being able to accept up to a +16dBU microphone input level means there is a good chance you'll never see a red overload LED--even with a hot condenser mic placed two inches from a snare drum!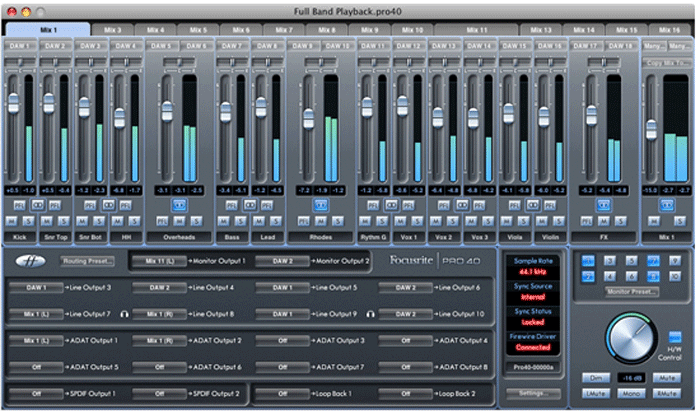 Focusrite Saffire PRO 40 Control Software GUI
My Multi-Track Rig
I run Pro Tools HD 9 in my studio and since I mostly mix, I usually only overdub vocals, a guitar or light percussion part--for the most part I never deal with more than one or two microphone (sources) at a time.
For this work, I have just two microphone recording paths consisting of a two-channel RTZ microphone pre-amp followed by a Benchmark Media ADC1 stereo A/D converter that connects to my Pro Tools I/O box, a HD192, via the AES/EBU Enclosure connector. A stock Avid HD192 (among other facilities) has eight analog inputs plus an ADAT Lightpipe input for eight more digital inputs.
Now with the Saffire PRO 40 and OctoPre MkII Dynamic combo in the rack, I add another 16 mic pre-amps, eight built-in compressors and onscreen monitoring software. Obviously the Saffire PRO 40 and the OctoPre MkII combination vastly expands my Pro Tools HD rig into a multi-track recording system by adding just two rack spaces of gear and at a modest cost. I am now able to record a room full of musicians using up to 18 mics. (16 from the Focusrite kit plus the aforementioned two-channel chain)
To get started, I installed the MixControl mixer software. I first rebooted my new Westmere MAC 8-core in 32-bit kernel mode because version 2.2 of Focusrite's MixControl software and its Firewire implementation is 32-bit only--to learn how to boot your new MAC in either 32 or 64-bit, go to: support.apple.com/kb/HT3773.
I always externally clock the HD192 from the ADC1 and so I clocked from my HD192's clock chain by connecting a short BNC clock cable from the HD192 to the OctoPre MkII's external clock input. I'm running at a 44.1kHz sample rate.
Next I connected a short Lightpipe cable from either one of the OctoPre's two Lightpipe outputs to the single Lightpipe input of the Saffire. This provides the OctoPre's eight channel digital outputs and clock to the Saffire. In the MixControl GUI, I switched clock source to ADAT and I was good to go.
I next connected another Lightpipe cable from the Saffire PRO 40's single output spigot to the ADAT Lightpipe input of the HD192. These eight channels show up in Pro Tools' I/O as interface 9 through 16 when those eight channels are configured and optical is selected in the Hardware setup of the HD192.
In MixControl the sixteen-channel mixer will show 1 to 8 as analog from the Saffire and 9 to 16 as ADAT audio coming from the OctoPre. I then used a DB25 snake with TRS plugs to connect the eight analog outs of the Saffire to the eight analog inputs of the HD192. I'm set to record!
If your DAW will accept two ADAT eight-channel Lightpipe streams, you could make an all-digital connection using two separate Lightpipe cables--one from the Saffire and another from the second output jack on the OctoPre. In MixControl, you would reconfigure the previous eight analog channels over to digital.
Let's Record
Now that everything is totally stable, I planned out my recording session. With eight compressors available, I would plug in microphones and DI boxes to the appropriate channels of either the Saffire and OctoPre, based upon whether I would required a compressor or not.
Track/Channel Layout
Track 1 kick drum: Electro-Voice RE320
ch 1 (Octo)
Track 2 top snare: Granelli G5790 Right-Angle 57
ch 2 (Octo)
Track 3 Hihat: Neumann KM 85 condenser
ch 3 (Octo)
Track 4 hi tom: Sennheiser MD421U
ch 4 (Octo)
Track 5 lo tom: Sennheiser MD421U
ch 5 (Octo)
Track 6 Drum Overhead L: Milab DC96B condenser
ch 6 (Octo)
Track 7 Drum Overhead R: Milab DC96B condenser
ch 7 (Octo)
Track 8 Bass guitar: direct via BSS AR-133 Active DI
ch 8 (Octo)
Track 9 Grand piano L: Mojave MA101fet condenser
ch 9 (Saffire)
Track 10 Grand piano R: Mojave MA101fet condenser
ch 10 (Saffire)
Track 11 Light Percussion: Shure Beta 181
ch 11 (Saffire)
Track 12 E. Guitar 1: Royer 121 Ribbon
ch 12 (Saffire)
Track 13 E. Guitar 2: Royer 121 Ribbon
ch 13 (Saffire)
Track 14 Scratch Vocal: Blue Microphones enCORE 100i
ch 14 (Saffire)
Track 15 Synth L: (using the instrument input)
ch 15 (Saffire)
Track 16 Synth R: (using the instrument input)
ch 16 (Saffire)
I decided to keep all the drums and bass on the OctoPre because I wanted to ensure phase coherency between all those mics. I wanted to compress the kick drum mic only slightly for an increase in low frequencies and a more consistent beat. And then sometimes I will use a compressor to squash the snare for that sound. I found a gentle compressor setting for tracking the bass guitar that seemed to work most of the time.
Since the mic pres are the same on each unit, changing a mic input from the Saffire to the Octo to use the compressor is easy--just match the position of both knobs and your initial level is set. Wind in whatever compression you'd like and readjust slightly and you're done in seconds--fast enough that you can make the change between recording takes.
In general, it is easy to get good and hot recording levels on all instruments. The mic pres are transparent sounding and have a good dynamic range--they don't overload easily or unexpectedly.
It is also easy to build a headphone mix in MixControl and of course you can save an entirely different monitor mix, headphone mix and assignment for every song.
You can connect a small headphone amp like an Aphex HeadPod 454 to the Mix 1 headphone jack on the Saffire and provide for up to four sets of stereo phones at once and still reserve the second jack with a separate mix for the engineer/producer. Without more cabling and dedicated headphone amps connected to my HD192, separate headphone mixes in Pro Tools can be difficult to produce quickly.
Expand and Upgrade Your Studio!
I think adding both the Focusrite Saffire PRO 40 and OctoPre MkII is the fastest and most cost-effective way to turn your project studio into a full, "ready for anything" multi-track facility. If you're like me, you'll be looking at that spare bedroom in a whole new way--"should I put the drum kit against that wall or on this side?"
Step up to the Saffire PRO 40 for $499 and the OctoPre MkII is $699.
More information on OctoPre is at: www.focusrite.com/us/products/mic_pres/octopre_mkii_dynamic
More information on Saffire Pro 40 is at: www.focusrite.com/us/products/audio_interfaces/saffire_pro_40
---
Copyright © 1994-- By Barry Rudolph All Rights Are Reserved.