The single rackspace Focusrite Saffire PRO 40 is part of the Saffire line of Firewire audio/MIDI interfaces that all feature innovative control, routing and, in the case of the PRO 40, latency-free direct monitoring. The Focusrite Saffire 40 stands out from other manufacturer's units chiefly because of its superior analog front end, solid digital conversion system, unique feature set, and the unit's seemingly endless universality.

With its flexible analog and digital I/O capabilities the PRO 40 acts as the "nexus" of your DAW studio--it also can act as a "breakout box" for an ADAT deck or any digital system connected via the ADAT or SPDIF facilities.
This is easily setup using its included 18 X 16 DSP mixer/routing software called Saffire MixControl. Your setup and settings in the Saffire MixControl software can be saved to the firmware of the Saffire Pro 40 allowing the unit to run standalone--without being connected to a computer. However, the Saffire PRO 40 MixControl software is not required for the unit's operation or its use with any DAW software such as Pro Tools 9.
The eight award-winning Focusrite microphone pre-amps work together with a quality digital conversion system that features JetPLL™ jitter elimination technology. Your studio is future proof because of the 40's open-ended design--it will continue to be useful with most DAW software and computer platforms that exist now or have yet to be devised.
Some other features include: up to 24-bit/96kHz operation, route as many as 20 inputs to any of 20 outputs simultaneously, a digital "loop-back" feature where audio coming from one DAW audio program can be sent to another, ten assignable analog direct outputs, ADAT Lightpipe I/O, stereo SPDIF I/O, and every microphone input channel features switchable phantom power.
As a bonus, Focusrite's established Xcite+ bundle along with Ableton Live Lite, Novation's Bass Station soft synth and over one GB of royalty-free samples are included with every Saffire PRO 40. These VST/AU Native-running plugs perfectly compliment using the PRO 40.
The Front Panel
Handy-dandy are the two front panel combo XLR/1/4-inch input jacks. These first two inputs have switches for instrument or -10dBv level, and a 9dB attenuator pad. Phantom power is switched on/off in blocks of four inputs: one switch for inputs 1-4 and another for inputs 5-8)
There are eight mic gain pots and eight LED input level meters follow. The front panel finishes with an Firewire activity LED, an internal or external clock indicator, Monitor level pot with a Dim and Mute buttons and two headphone jacks with separate level controls for each.
Back Of The Box
In addition to the six combo XLR jacks for inputs 3 through 8, there are stereo S/PDIF RCA in/out jacks, two Firewire spigots, and the ADAT Lightpipe in/out ports, there are MIDI In and Out jacks and ten analog line level outputs with outputs 1 and 2 designated as monitor outputs.

All Good But How Does It Work And How Does It Sound???
I booted up Ableton's Live software (Digidesign version) and, after setting up its internal routing where the Saffire shows up in the list of inputs and outputs of Live, I then configured the mixer inside of Saffire's Control software to get ready to record and listen back using the PRO 40. For the most part, the Saffire Control software runs behind the Live GUI and it's ready any time you need to change something.
For electric guitar, I connected an SM57 and a DI box to Saffire's one and two XLR inputs, a stereo synth line to inputs three and four and I used the ADAT Lightpipe I/O to connect an old ADAT tape deck. It is good to be able to leave all this gear hooked up and not have to trade one for another to get the job done.
I could have also use the S/PDIF and/or Lightpipe to add an additional analog mic pre-amp like the Focusrite ISA One pre-amp. I tried this and it worked fine as an "ultra high end" recording path. This would also be a way to insert a compressor and/or equalizer in the recording path.
I connected my Adams A7 monitor speakers to the Saffire's monitor outs and used my AKG K271 phones (55-ohms) when overdubbing in the same room as this rig. The Saffire's headphone output sounds good and puts enough level to drive my phones loud enough for me but a drummer might need more level to play. To maximize the level for your deaf drummer, you can "shift click" on the 7 & 8 and 9 & 10 output buttons in the MixControl GUI and those buttons will turn grey and full 0dBFS signal will be sent to the headphone outputs.
This was a remix project where additional loops, guitars and percussion were added to a stereo mix of the song coming from the ADAT machine.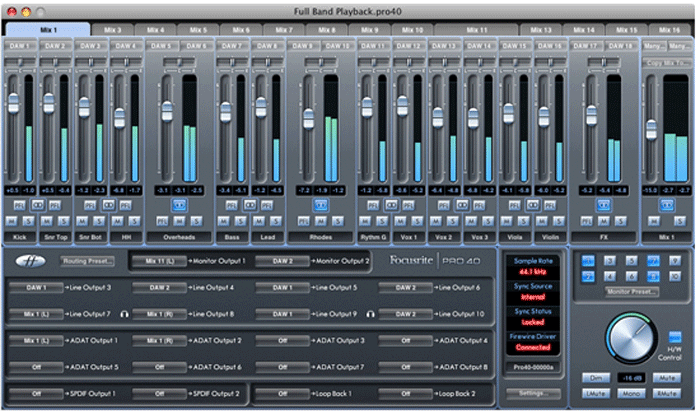 Focusrite Saffire PRO 40 Control Software GUI
First order of business: copy the ADAT tracks into Ableton Live. Once the song's original mix and instrumental backing tracks were recorded into Live, I went about adding loops and noises, editing sections and creating new song sections using snippets of the song's tracks.
I also wanted to add some guitar bits and my guitar player "threw down" three cool rhythm parts plus a solo over a newly created section. The Saffire had plenty of clean, noise-free mic gain for both the mic and my BSS AR-133 Active DI box. I used an original Royer R-121 ribbon mic on the guitar amp--the original Royer R-121 is known for its low output but I had enough gain with the PRO 40 for recording electric guitar.
I put Live in the Auto mode where track(s) in record are muted--you can change modes to listen to them while in record but the audio will be delayed (latency) going into and then back out of the DAW. Saffire PRO 40 came to the rescue because I setup the mixer so that whatever source audio I was recording, it also went directly into the monitor mix. This feature worked well because you'll always hear yourself and the recorded tracks at the same time--even when not in record--it's also great to try out other parts or sing along without recording.
Once we added a synth pad and some bass guitar pops, we set up to mix it all and that's when I lit up the Adams A7s. The Dim and Mute buttons are "pro" features--things us pros are used to having without thinking about it--it's just there. The Dim button lets you check the mix at lower volume and the Mute button is useful when taking phone calls.
It's All There!
The Focusrite Saffire PRO 40 proved to be an excellent way to interface to any DAW software suite. You may upgrade from one DAW to another or change computer platforms from MAC to PC but the Saffire will always work the same from now on. I found the mic pre-amps to sound great, the unit intuitive to setup and configure, and the whole system rock solid.
The Focusrite Saffire PRO 40 sells for $499 MAP and for much more check: www.focusrite.com/products/saffire/saffire_pro_40/
---
Copyright © 1994-- By Barry Rudolph All Rights Are Reserved.