Largo is the latest soft synth from Waldorf, the German synthesizer company recently well-known by their line of hardware Blofeld synths that produce the sounds of past Waldorf synths such as the Q, MicroQ, and Microwave--which have been out of production since 2003.

Producer/Songwriter David Gamson Comments.


(Scritti Politti, Chaka Khan, Meshell N'degeocello, Ke$ha, Adam Lambert, Kelly Clarkson)

"The history of Waldorf goes back to PPG, the brainchild of Wolfgang Palm who, in the early 80's, brought wavetable synthesis to the world with the PPG Wave 2.2, 2.3 and the Waveterm--a huge Fairlight CMI-sized contraption. It's hard not to overstate how different-sounding those evolving, digital synths sounded in comparison to the other instruments available at that time.

All of producer Trevor Horn's productions from the early and mid 80's, notably the Frankie Goes to Hollywood records, featured the PPG Wave heavily."

PPG ultimately went out of business and 'passed the torch' along to the newer, more compact and less expensive Sequential Prophet VS, Korg Wavestation, and the nascent Waldorf synth line.

Waldorf's first foray into virtual instruments was years ago with Attack, a drum synthesizer, and a virtual modeled version of the PPG wave 2.3 keyboard.

Gamson continues with:

"So as a huge fan and owner of almost all of those old hardware synthesizers, I was very excited to hear that Waldorf were releasing Largo--a virtual synth that could create all of those wonderful sounds."

Largo is huge, yet the ergonomics are very good and well thought out, making programming your own sound very easy. It has four synth engines--each one has three oscillators, two of these include sub oscillators, two multi-mode filters with variable drive (overdrive) algorithms, a complete modulation matrix, an arpeggiator, and two digital effect sections.

These four synth engines run as independent synths, accessible via MIDI channels 1-4 and route out of four separate stereo outputs or, in "layer" mode, function as one giant synth where all sounds are accessible via MIDI channel 5, are mixed together and then routed out of one stereo output.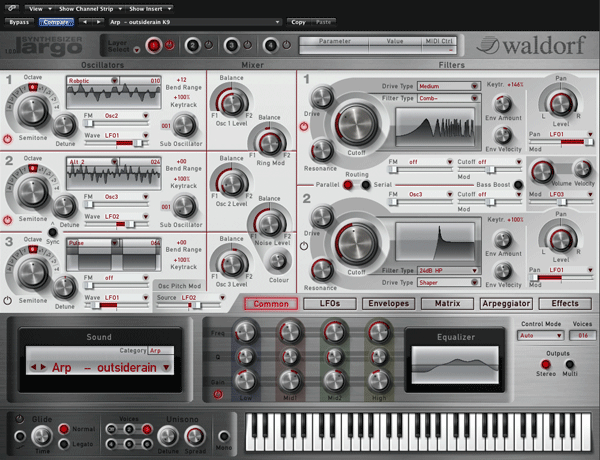 The oscillators produce any of the four basic analog waveforms: pulse, square, sawtooth, and sine--(sweepable via assorted modulation sources) so immediately Largo can function as a classic virtual analog synth. There are also 68 wavetables (also sweepable via modulation sources) taken from all the Waldorf synths. This gives you an incredible palette of sound.
Gamson continues with:
"I found the filters to be among the best sounding filters I've yet heard in a virtual synth! Essentially using Largo is like playing and programming a Blofeld synth only as a plug-in. And Largo has something that Blofeld doesn't: a stepped LFO.
Once I got my hands on Largo I started replacing things in the track I had been working on. I downloaded some PPG presets that someone had posted at KVR Audio and used a lush PPG pad to replace a much less interesting synth I already had. It completely brought back memories of using the Wave 2.3. But in this case, since LFOs can be synced to the host clock, I was able to easily add movement to the pad that was perfectly matched to my track.
I also used one of the aggressive sounding bass patches in the basic Largo patch set to double my bass part. The bottom end sounds big and deep yet really clearly defined.
To these ears, Largo nails the Waldorf sound better than anything I have heard in a plug-in. Huge, in your face sounds from beautiful evolving pads to greasy leads. All the sounds have tons of character making Largo a no brainer for any one interested in adding a virtual 'legion' of synth sounds to their synthesizer army."
Largo sells for under $250 and for more about it, check www.mvproaudio.com
Waldorf Largo Synthesizer Specifications
General

Up to 256 Voices per Instantiation (Depending on CPU Power)
Up to 4 Layers Per Sound
4 Stereo Outputs (Alternatively 1 Stereo Sum)
Host Automation of Almost All Parameters
MIDI Controller Automation of Primary Parameters

Per Voice:

3 Main Oscillators, 2 Sub Oscillators, Virtual Analog Waveforms
Wavetables: 68 wavetables taken from all the Waldorf synths
Oscillator FM

Oscillator Synchronization

Ring Modulator for Osc1 and 2
Noise Generator with Noise Color

Two Independent Multi Mode Filters

Filter FM with Resonance up to Self-Oscillation
Low Pass 24dB/12dB
Band Pass 24dB/12dB
High Pass 24dB/12dB
Notch 24 dB/12dB
Comb Filter with Positive/Negative Feedback

Sample&Hold

Two Drive Stages Per Voice with Adjustable Drive Gain
and Selectable Curve
Modulation Matrix with 16 Slots, Freely Programmable
Modulation Speed Into Audio Range
Modulation Sources: All Internal Modulation Sources Plus MIDI messages
Modulation Destinations for Almost All Variable Sound Parameters
Multiple Pre-Routed Modulation Destinations with Selectable Sources
4 Modifiers for Transforming Modulation Sources with Various Algorithms

LFOs

Three Fast LFOs
Syncable to MIDI Clock
Note Retrigger with Adjustable Start Phase
Keytrack--Freely Drawable LFO Waveform with 16 Steps




Largo is available from www.mvproaudio.com

MV Pro Audio
P.O. Box 3312
Santa Barbara, CA 93130
877-784-7383
sales@mvproaudio.com

Envelopes

Four Fast Envelopes with Selectable Types
Single Trigger/Retrigger per Envelope
ADSR
ADS1DS2R (2 Decay/Sustain Stages + Adjustable Attack Level)

One Shot

Loop S1S2 (Loop Between Sustain 1 and 2)
Loop All (Loop Across All Stages)
Poly, Mono, Dual or Unison Mode with Selectable Voice
Count per Layer

Arpeggiator

Hold and One Shot Modes
Syncable to MIDI Clock
Direction Up, Down, Alternate
Range up to 10 Octaves
Multiple Methods to Modify Note Sort Order
Freely Programmable Arpeggiator Pattern with up to 16 Steps

Effects

Two Effects Slots Per Layer
Chorus, Flanger, Phaser, Overdrive, Delay (2nd Effect Slot Only)
Reverb (2nd Effect Slot Only)


System Requirements PC

Windows XP or Higher
Intel Pentium 3 1GHz or Higher
AMD Athlon 800 MHz or Higher
64MB Free RAM

VST 2.0-Host Software that Supports Virtual Instruments Cubase VST 5.0 or
Higher, Cubase SX/SL, Nuendo 1.5 or Higher
System Requirements Macintosh

System Requirements Mac

Mac OSX 10.3.9 or Higher
PowerPC: G4 800 MHz or Higher
Intel: Any Processor
64MB Free RAM

VST 2.0-Host Software that Supports Virtual Instruments Cubase VST 5.0 or
Higher, Cubase SX/SL, Nuendo 1.5 or Higher
AudioUnit 2.0-Host that Supports AudioUnit Instruments
Apple Logic or GarageBand

For a list of Largo dealers, see www.mvproaudio.com/dealers.html
---
Copyright © 1994-- By Barry Rudolph All Rights Are Reserved.