Simple, elegant and inexpensive--three words not often used at the same time when discussing some of today's DAWs and their hardware components. Level Pilot is a line-level volume volume control for DAWs that connects between your audio interface's analog audio output and your powered monitor speakers or speaker power amplifier input.
Without a hardware controller for monitor volume, there is nothing one can do to when a DAW computer crashes or freezes but unplug the monitors and headphones to prevent possible damaging thumps and noise spikes. The feeling of a loss of control is real and, coupled with setting volume levels with the computer's mouse, working "in the box" can become tedious.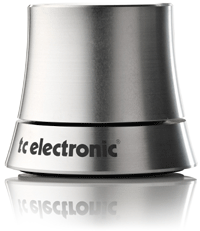 Level Pilot is a stylish, high-resolution volume control knob measuring 45mm wide at the top, 60mm wide at the base, and 50mm in total height. It fits into any monitoring system quickly and easily and with a minimum of wiring clutter. It's made of brushed aluminum and has a solid, 'slip-free' rubberized base. It's design looks great and the knob's shape is a good change of grip from grasping my trackball all day--i.e. easy on the hand. It's also the right size to remain always within sight and reachable at all times next to your QWERY keyboard.
Level Pilot uses a Bourns potentiometer to ensure accurate, high-resolution analog volume control. Analog volume control is better than digital attenuation of the output signal which can reduce the digital-to-analog converter resolution, ultimately rendering a poorer monitor sound quality at lower volume levels. Level Pilot uses no buffers, batteries, transistors and is fully-balanced. It will also handle unbalanced lines as well.
Level Pilot comes with its own discrete quad-core cabling to ensure perfect stereo imaging and left-right tracking. Level Pilot sells for $119MSRP and for more information, contact TC Electronic at: www.tcelectronic.com
---
Copyright © 1994-- By Barry Rudolph All Rights Are Reserved.