Nomad Factory has the British Bundle, a new addition to the Nomad Retrology Series. Starting with two plug-ins based on classic British transistorized processors from the late 1960's and 70's. Mostly used in Neve recording conosles, these are startling faithful sounding plug-ins that run Native (AU, VST and RTAS) on Windows XP/Vista32 and Mac OS X (Intel & PPC) computers at 24-bit and up to 192 kHz sample rates. The two plug-ins are the British MCL-2269 Master Compressor/Limiter and the British NEQ-1972.
My first love fest started with the British MCL-2269 a Master Compressor/Limiter modeled on the legendary Neve 2254 compressor. BTW, I can say "Neve" here but plug-in companies know better than to use the original manufacturer's names of gear in their literature they are modelling. Just like the hard-to-find hardware unit, this plug-in is just as vibey and cool sounding and works great for most any source. I found it good for guitars, drum and out-of-control vocal tracks.
The only plug-in close to this might be the UAD Neve 33609 that requires a huge chunk of a UAD DSP card just to exist--there is a lot to model with the stereo version. The hardware Neve 33609 is a later-day 2U stereo incarnation of two Neve 2254 units strapped for stereo. But whatever reason (and people have offered to show me the schematics of both) I never got the same sound of the 2254 modules out of the 33609.
Front panel features are: Input and Output level controls, separate compressor and limiter sections, phase reverse switch, overload 'Clipper' soft-knee limiter, and vintage gain reduction VU meters.
Nomad's British NEQ-1972 is a four-band equalizer modeled on the classic Neve 1081 EQ console module. The 1081 is a Class-AB design that came in many Neve consoles but notable the 8078 gem. It has a forward sound character I find great for shaping up "flat-footed" and boring guitar, bass and keyboards.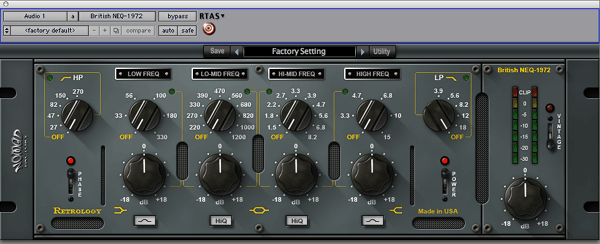 Again the UAD 1081 module is also available IF you happen to own the UAD card. (Right now I cannot, as all my G5 slots are full of Pro Tools cards--oh well????) Like the original 1081, the NEQ-1972 provides +/- 18 dB of gain with switchable High-Q settings. Other features are: 24/octave high and low Pass filters, phase reverse switch and, since the original 1081 is a console module without a VU meter, there are modern LED tree meters.
Both the British MCL-2269 Master Compressor/Limiter and the British NEQ-1972 are excellent plug-ins and the start of great line of retro plug-in processors from Nomad. I'm looking forward to more from this exciting company!
The Nomad Factory British Bundle sells online for $299 MSRP. Check: www.nomadfactory.com.
---
Copyright © 1994-- By Barry Rudolph All Rights Are Reserved.