My DAW desktop surface is more crowded than ever---and I'm loving it! I just added the new Novation Nocturn Plug-in Controller to my small army of DAW accessories.
As DAW plug-ins become more complex and intense, their GUIs (graphical user interface) have become more jam packed with more parameter controls than ever! And in order to keep their GUI's screen size to a minimum, the controls and buttons keep getting smaller and smaller. Even though I get new glasses often, the controls are not getting any easier to find, touch and adjust with a mouse. Plus during the course of working many hours adjusting plug-in after plug-in, my right hand and arm get very sore.
If you've spent any time at all using plug-ins to coax a great-sounding mix from "inside the box," Nocturn is like manna from DAW hardware heaven! My carpal tunnels rejoice: "At last, at last, great almighty, free at last!"
Novation Nocturn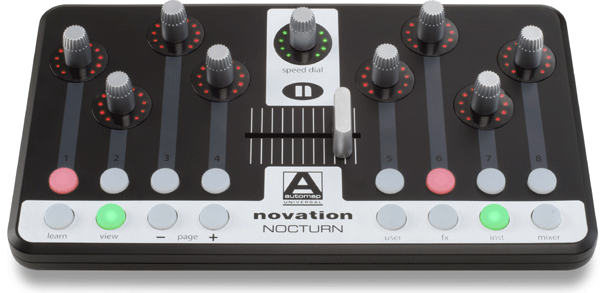 Nocturn is a dedicated controller surface for instant and intelligent control of any automatable plug-in within every major sequencer/DAW, including Pro Tools, on both Macs and PCs. It's totally compatible with VST, AU, RTAS and TDM host systems/computers.
Ultra low in profile, Nocturn measures 9 1/2 by 5 1/4 inches and lies flat on any desktop--I have mine between my QWERTY keyboard and monitor. It connects via a side-mounted USB spigot and has eight, touch-sensitive continuous encoders each ringed with eleven red LEDs. These encoder LEDs provide visual feedback that the parameters you're adjusting on Nocturn are changing in the plug-in. It's cool to see them change after you've automated a parameter(s) too.
In addition, there are eight large backlit large push buttons, a 45mm crossfader, and a Speed Dial for instant access to any plug-in parameter--just hover over any parameter on the plug's GUI with the mouse and adjust it with Speed Dial. There are also eight more lighted buttons specific to using Nocturn and its sidekick, the Automap 3 Pro software.
Nocturn uses Automap 3 Pro software to automatically assign plug-in parameters to each of the controller knobs and buttons. To set Automap 3 to work programming Nocturn before launching Pro Tools, I called up the Plug-In Manager software to scan all my plugs and map them. The software creates a copy of the plug-in software and adds its wrapper. This wrapper adds Nocturn's frame around the plug's GUI so you know what plug has been wrapped when you insert it into your session.
Now when I call up any wrapped plug-in, a transparent Control Map Window appears along side the plug's GUI to show which Nocturn controllers control which parameters on the focused plug-in. The Control Map appears and disappears using Nocturn's View button.
Nocturn's GUI has as many layers available as there are map-able parameters in a plug-in. You can also repeat parameters on each page (such as the Bypass button or parameters that you would always adjust together such as frequency and boost/cut on an EQ) just use the Add A Page function--for as many (or few) parameters as you want to control.
I found this whole scheme to work amazingly well considering all the quirky developer differences between all the plug-ins out there--I know because I have hundreds of plug-ins! Auto Map 3 Pro works very well in mapping all the parameters of plug-ins with dozens of automatable controls.
Things are not perfect however. I see that most of the time the Bypass In/out button of a plug-in is mapped to a knob. It works fine but I prefer the lower left button as my standardized location for bypass. No problemo as Automap 3 Pro has a "learn" function where any button or control knob can be assigned to any function you want. You can drag and drop knobs to buttons within the Control Map Window or simply turn or push the button on the plug's GUI and its operation is instantly mirrored on Nocturn. Once you save your changes as part of the plug-in's default map, you're done--it can't be any simpler than this!
Automap 3 also categorizes all your control maps and a simple browsing facility lets you review all open plug-ins to quickly switch to control any of them. Automap 3 also supports standard MIDI and HUI protocols for controlling and assigning MIDI parameters to a hardware MIDI device, any non-automatable plug-ins, or mixer control in your sequencer. A growing number of pre-made maps will be available to download from www.novationmusic.com
Using Nocturn
Without a console or console-like controller, I mix in the box these days using a large Pro Tools HD Accel rig. An accessory like Nocturn makes it wonderful to get back some tactile sensation when mixing like adjusting volume, EQs, compressors, reverbs etc. I often automate plug-ins for both effect treatments and fixing poor sounding recordings. Be able to twist an EQ knob or move a real fader for vocal rides are about the only things I miss from old school mixing. FaderPort gives me the fader and Nocturn everything else--I have no excuses now for better mixes!!
So, in a way, I'm reconnecting with my "roots" using modern technology and Nocturn helps to make it happen. I've been adding and modifying new maps everyday of the plugs I often use and Automap 3 Pro has got me covered already with reverbs and other multi-effect processor plug-ins.
So get back to mixing using real controls and keep the mousing to a minimum! Novation Nocturn sells for $249.99MSRP. It ships with version 2.1 software and buyers can download free version 3. Automap 3.0 PRO is a payable upgrade, at $29.99 via www.focusrite-estore.com. The differences are shown at:
Check www.novationmusic.com for much more!
---
Copyright © 1994-- By Barry Rudolph All Rights Are Reserved.