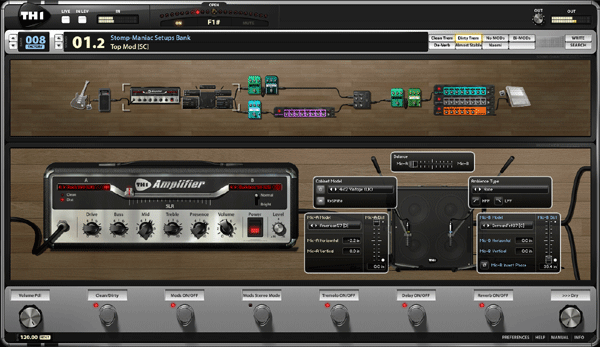 Overloud, the same Italian company who produces one of my fave reverbs, Breverb, has TH1 Custom Guitar Effects Suite--a whole different approach in virtual guitar rigs. Essentially TH1 lets you configure, chain together and operate a guitar effects pedal board with amplifier choices, cabinet choices and design, microphones and positioning, and recording method using an intuitive, real-time graphical interface.
Overloud's tube and analog emulation technology has been in development for more than ten years and has been brought to market in its fourth incarnation in TH1, resulting in what Overloud believes to be the warmest, most lush and truthful guitar tones ever created with a modeling plug-in. TH1 works in mono or, for true stereo in/out, takes a mono guitar and makes it into a stereo guitar sound using the stereo effects. (it also processes signals other than guitars in true stereo in to stereo out.)
TH1 uses SLR amplifier morphing, life-like microphone positioning around cabinets allowing you to experiment with miking positions, ReSPire cabinet technology, and BREVERB-based reverbs. There is a huge collection of mics, cabinets, and amps, dozens of stomp-boxes, pedals and rack effects all at the ready to work in any way you'd like.
The coolest thing about TH1 is the unlimited configuration and how easy it is to do it. The plug-in GUI is as big as you can stretch it to in your monitor window. The GUI is a giant pedal board with four sections. The top section or Header Pane has a tuner, input level meter, output level and control, and access to the Global controls when you click on Open. These are controls are Low and High frequencies, Reverb, Delay, Gate and Output level for any running TH1 Sound.
The Sound Panel underneath this section has the factory and user preset manager. There are 999 user and 999 factory preset locations and so you're going to need the powerful search engine that splays out in two matrices--a factory and user page with all resident presets available and in view. Each individual preset from the banks of Factory and User presets have up to eight variations so you can build presets that gradually change from clean to distorted or straight to more affected. There are 12 Factory Banks with 93 Sounds and 462 Variations included.
The next section of the GUI is called Overview and it has a miniaturized and full size view of the virtual hardwood "floor" where all your stomp boxes, amp heads, speaker cabinets, rack effect units and sub-mixer boxes would reside in a TH1 signal chain. I like that in the full size window, called Module View, you can just grab the floor and move it left or right with the mouse see all the units, their settings to make adjustments.
I also found the blank box feature great--there are blank boxes all along the signal chain in which you can add most any stomp box, amp head or speaker cabinet. In fact any piece of "wire" in the signal chain is fair game to add whatever you want--and also, it does not have to make electronic sense in the actual order of effects. You can drop speaker cabinets after wah pedals or amp heads after speaker cabinets--this makes programming ridiculously fun and you'll come up with impossible (in reality) interconnected effects, amps, and speaker combinations!!!
The last section of the GUI is a row of stomp pedal footswitches and control knobs called the Smart Control panel. As you add stomp pedals or rack effects you can assign these footswitches and knobs to certain parameters for instant access. More for live performance in Standalone mode, the Footer also has BPM tempo controls and effect on/off LEDS. For Compact Live mode, this entire GUI collapses down to a familiar-looking footswitch with tuner and preset selector.
I've been building presets that I tend to go for in my mixing. Most of the producers I work with give me a DI signal of each guitar track along with the recorded amp sound they achieved during the session. With TH1, I usually first try to duplicate what they already have to add as a strengthener/doubler although a lot of the time I beat their sound with no sweat. I am, of course, at an advantage here since I have the entire production in front of me allowing me to more carefully carve out a guitar sound "after the fact" of tracking. TH1 make this task a breeze!
Any way you want to look at it, TH1 is a wonderful and powerful production tool. I use it in my Pro Tools mixing but anybody can use it to get great guitar sounds during recording too. There is very low CPU usage in either plug-in or standalone mode; the amplifiers introduce only 4 samples latency while the other pedals and effects have zero latency.
There are eight amps with 15 total channels and 21 operating Modes, 21 Cabinets, 18 Microphones including dynamic, ribbon, and condenser types, up to two microphones for each cabinet, studio ambience reverb optionally added proportionally to the distance of the microphone from the speakers, 50 stomp boxes, pedals and rack effects, parameter-based BPM sync switch, local and global tap buttons, host tempo sync, iLok or file-based authorization available.
Version 1.1
The new version 1.1 is almost like an all new product but it's a free upgrade for registered TH1 users. As a purchasing bonus until April 6th, TH1 ver 1.1 will come Recabinet Impulses www.recabi.net included in its cabinet modeling database. A value of $39USD, Recabint are responses of various guitar cabinets produced by Kazrog LLC.
Other new amp and module features are: a BassFace '59 (US) classic amp and Overloud Custom boutique-class amp; VariFire control panel: a Gain-Character control for expanded distortion color control; three new Rack Effects: Spatial Delay, Comb Delay, Pattern Delay with 66 different patterns and up to 8 taps; Mixer Pro with control on Phase, Stereo Width, Sample Delay and Mono/Stereo output switch; Splitter with Balance/Switch capabilities and with two Crossover modes (HPF/LPF and BPF/BRF) and frequency/width controls.
The Dual IR Cabinet module allows users to load commercial or their own cabinet Impulse Responses with balance, phase and micro-delay control with HPF and LPF and it comes preloaded with the Recabinet Demo and the Experimental Cabinet collection from Wild Hades. There are now eight new Stomp Boxes: Noise Gate/Expander, Mild Flanger, Rich Flanger, Analog Flanger, D-Reverb, D-Delay, 7-Band Graphic EQ and 5-Band Amp EQ.
There are GUI changes too. Auto-hiding Overview panel simplifies the use of TH1 on smaller monitors and you can change the floor graphic now ("Floor Skinning") among factory and user-supplied image files.
I was glad to see simple copy and paste of modules between Variations and different instances of TH1 and numerical keyboard entry of parameter values that change when mousing.
MIDI functionality has leaped. Smart MIDI Control: assign Smart Controls to any MIDI CC, Note On or Program Change with Auto-Learn Function; Direct Variation MIDI Control: assign any MIDI CC, Note On or Program Change with Auto-Learn Function to the direct recall of any of the 8 Variation in the currently active Sound; and Remote Preset MIDI Control: other than the default Program and Bank message control.
TH1 can be programmed (also via Auto-Learn) to respond to MIDI CC, Note On and Program Changes for operations like Bank up/down, Sound up/down, Variation up/down; Global MIDI Control: assign any MIDI CC, Note On or Program Change to all Volume Pedals, Wahs, Internal BPM Tap Tempo, Tuner status, Output Mute and Output Volume; MIDI: Saving of MIDI Bindings configuration presets; Smart: copy, swap, remove Smart Controls via drag&drop actions; Smart: button to swap Min and Max values; Smart: new Smart types, Touch (momentary switch), Stepper Up, Stepper Down, Stepper Up/Down with up to four different user definable settings to step through.
Important Fixes in ver 1.1 are: better Noise Gate implementation in Master Section; left and right arrow keys in the Browser panel will scroll through Variations; dedicated button to open the Smart Connections window; and Digidesign's Pro Tools 8 is now happy.
Automation fixes include: master parameters get saved with song/session and when quitting the standalone version; and host, Internal and Variation-based BPM is now saved.
TH1 is available in RTAS, AU, VST for Mac OS X and RTAS, VST and Stand-alone formats for Windows and lists for $349 in the USA and Canada. A 14-day full-featured demo is available for download and there is much more at: www.overloud.com and www.ilio.com
---
Copyright © 1994-- By Barry Rudolph All Rights Are Reserved.