The "love" is obvious in every microphone John Peluso turns out by hand at his Floyd County, Virginia lab. Peluso's twenty-nine years of experience repairing and restoring all brands of vintage and modern microphones, his extensive stock of vintage parts, and diaphragm repair lab make him precisely qualified to produce his modern classics. The P12 is inspired by and styled after AKG's legendary C12 and is indicative of his whole line of microphones with its custom design and handcrafted quality. He uses only the finest components and builds the mics using the Austrian manufacturer's original published specifications and frequency response graphs as design goals. AKG's original testing standards are employed for quality control.

Peluso obtains all mic parts, raw materials and machine-shop work from around the world: the silver-foil output capacitors, resistors and capsule Mylar come from Germany; outer cases and capsule back plates are machined in China; and the output transformer is a custom remake of the T-14. The power supply and transformer are made overseas.
The P12 has nine polar patterns switchable at the power supply. Peluso controls cost with a standardized power supply design that will also run some of the other mics he makes--such as another favorite of mine, the 2247 SE large diaphragm model.
The P12 comes as a complete kit packed in an oversized flight case with a velvet-lined, wooden mic storage box, power supply, seven-conductor cable, and shock mount. Like all Peluso mics, its' covered by a three-year limited warranty
Peluso P12 Kit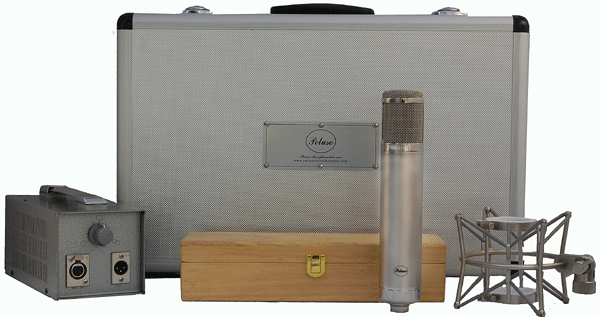 My latest studio project is a new album by Pat Benatar and it afforded me the luxury of auditioning several different vocal mics they'll use at their own studio. She was as curious about the differences as her husband and producer Neil Giraldo. Patty "nailed" each mic's general character, the differences they each made to her sound, and the way they influenced the emotion of her vocal performances.
With this much riding on the sound and feeling of the microphone, Neil and Patty wanted to match the mic's sound exactly to each song. They'll probably use at least four different mics during the recording of the lead vocals for this record.
The P12 faired well under this kind of scrutiny--as expected, it reproduced airy high frequency sonic qualities along with a large low frequency stage like the original AKG C12 quite well. Compared to some of the other large diaphragm tube condensers in their collection, the P12 had a taller sound--more top without shrillness and deeper bass without boom.
Neil Giraldo explained his preference for the P12 this way: "Vocals recorded on the P12 have a very smooth top end that sits nicely within the track--especially when singing at softer levels and in songs the require an intimate setting."
As "mastering insurance" on one song, I will de-ess a couple of strong "Ss" but they were not overly sibilant. I do this so that the mastering engineer may brighten the mixes as he sees fit without resorting to de-essing the entire stereo mix. (I hate that).
In addition, the extended low frequency of the P12 necessitates a pop screen and my Pete's Place Blast Filter worked great. The included shock mount isolated the mic's body well against subsonic bumps and foot tapping.
Peluso Microphone Labs P12 Vacuum Tube Microphone


Type: Condenser Pressure Gradient w/ 34mm edge-terminated capsule
Frequency Range: 20Hz/24Khz
Polar Pattern: 9 - Switchable from omni- to bi-directional
Sensitivity: 11mv/pa
Impedance: 200 ohms
SPL: 136 db
Equivalent Noise: 15 db (A-weighted)
Tube Type: 6072A-M
Power Requirements: Dedicated Power Supply
Size: 45mm x 240 mm
Weight: 750 g
Price: $1499.75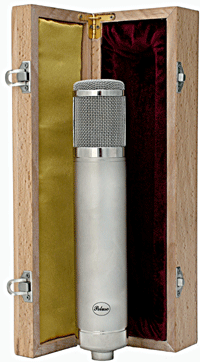 Across town at David Gamson's studio (David, in a past life, was 1/2 of Pop group Scritti Politti) the P12 sounded great on an acoustic guitar. David reports: "It had a nice glassy top end without sounding brittle and, because of the slight mid-range scoop in the frequency response of the microphone, very little carving out of the midrange was necessary to get the acoustic guitar to sit nicely in the mix."
He continues with: "we tried the P12 on a male voice-over session and found that it has a fantastic presence without sounding thin or harsh--very little post processing was necessary."
David's assessment lines up with what I've found that, just like the C12, the P12 tends toward a hyped top end but retains warmth. He goes on with: "the vocal had an 'in your face' quality coming straight off the mic making it a good call for recording a female pop singer. "
I used the P12 in the same ways I would use a good sounding AKG C12. I found it more reliable and consistent than most vintage mics. The P12 excels in vocal recording due to it's open and smooth sound. It will not flatten out (compress) under loud moments.
In a mix with heavily processed guitars, synths, and drum machines, vocals recorded with the P12 sound present and natural without having to resort to generous, additional equalization--usually the case with recordings made with some other tube microphones.
The P12 performs brilliantly through a wide dynamic range making it the first choice especially for singers looking for bright sound without harshness. It sells for $1,499.99 MSRP directly from www.pelusomicrophonelab.com.
---
Copyright © 1994-- By Barry Rudolph All Rights Are Reserved.