The dampening effect of our economic times was noticeable at the just-concluded Audio Engineering Society or AES Show at the Jacob Javits Convention Center in New York City. Even though it was a smaller show with less companies showing in downsized booths, enthusiasm and confidence coming from the big crowd was as strong as ever. Everyone said they were doing great business so go figure.



Plug-ins, Plug-ins and More Plug-ins

Judging by the many fascinating and powerful new plug-ins offered, no software plug-in developers were out of work. Not only is the new crop of plugs more powerful, they seem to all be part of a new wave of super-beautiful GUIs that are wonderful to look and also display more information in new useful and meaningful ways.



Sonnox Ltd. Restore Suite
My first stop was at Sonnox Ltd. who has introduced a revolutionary new suite of audio restoration plug-ins called Restore Suite. This is a Native (RTAS, VST, AU) bundle of three plug-ins: Oxford DeBuzzer, Oxford DeClicker and Oxford DeNoiser. They are all designed to accurately restore impaired audio recordings in a step-by-step process.

Sonnox Restore suite allows fast and extremely effective removal of pops, clicks, crackles, scratches, hum, buzzes and extraneous background noise from virtually any recording. Notably, all three plug-ins have sophisticated GUIs that provide detailed graphical feedback and novel features new to the restoration field. An example is the specialized dialogue mode in the DeClicker. It lets you program and automate an "exclusion zone" along the audio's time line where no or less restoration is performed. The Sonnox Restore Suite will be available at a price of $1,995 in the fall of 2009. www.sonnoxplugins.com/restore.
Lexicon PCM Native Reverb
Another awesomely beautiful GUI is in the new Lexicon PCM Native Reverb plug-in bundle. Finally, Lexicon has entered the reverb plug-in world with an amazing sounding processor that features seven of Lexicon's most used and wanted algorithms for rooms, halls, plates, chambers, concert halls, and vintage plates. It comes with hundreds of presets, a full EQ section, and a marvelous real-time animated display that shows the entire evolution of the reverb's sound in both the frequency and time domains. I know when my mixing clients see this on my Pro Tools screen; it'll be 'shock and awe.' PCM Native is compatible with all platforms and DAWs check www.lexiconpro.com.

WAVES Vocal Rider
Waves Vocal Rider maybe not win any beauty contests but this advanced plug-in will save time for professionals and help beginners sound better. This is a plug-in that automatically performs lead vocal rides (or any other track for that matter) predicated on the backing track's instantaneous level. I'm over-simplifying here but know all you have to do is bus a mix of the backing track from an aux send into Vocal Rider's sidechain input and then set the target range you'd like the vocal to ride above the track.

An obvious winner for rough mixes where you just don't want to take the time to do a vocal ride, it works for master mixes because it also writes the ride moves to the automation track of whatever DAW you're using. This is sweet! You can go back a tweak to whatever level of obsessive compulsion you're living with that day! More at www.waves.com.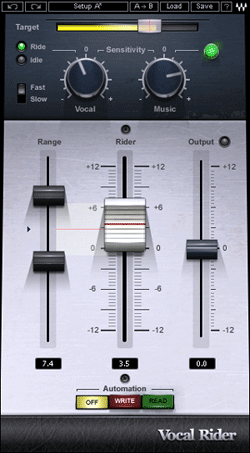 iZotope Alloy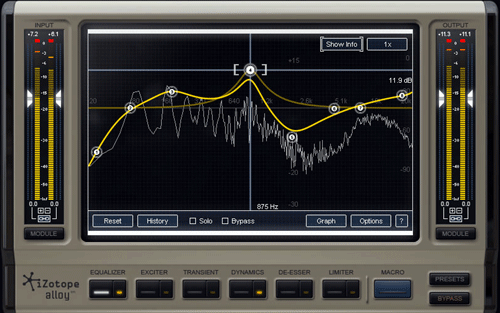 iZotope's Alloy™ is a single plug-in with six essential mixing processors arranged in a signal chain. Alloy is the mixer's version of their mastering plug-in Ozone and it has a great selection of over 150 starting point presets for processing any track within your mix. Each preset has a custom macro layout showing the most salient controls for the task at hand. Advanced users can build their own layouts and move modules around in the signal chain to customize the processing. For both recording, mixing and post-production duty, Alloy includes six modules: Equalizer, Exciter, Transient, Dynamics, De-Esser, Exciter, and Limiter.

As you might expect here, I cannot possible get into all the processing possibilities but a short list would run from tube, transistor and tape saturation, opto compression, multi-band limiting, to ducking and gating effects, three-band transient shaping, dessing, and side-chaining compression. Alloy is compatible with VST, AU, RTAS/AudioSuite, MAS and DirectX hosts. Check www.izotope.com.



Must-Have Hardware!

JoeCo BlackBox
The JoeCo BlackBox recorder answers a big wish amongst a lot of live sound engineers--a simple, none computer-based system to record multi-channel live music. It's a one-rackspace unit that records 24-tracks of audio up to 96kHz sample rates to connected USB2 hard drives. This is a 'dirt-simple' box that locks to timecode and has -10dB/+4dB switchable DB25 I/O connectors on the back, and a 24-channel level meter on the front.

A common 500GB drive will hold 20 hours of 24-track 96kHz audio in Broadcast .WAV file format and you can link additional BlackBoxes for as many tracks as you need. The individual tracks are automatically labeled for editing and mixing later and are accessible for playback or recording from the front panel without any computer interface required. Check www.capturingperformance.com.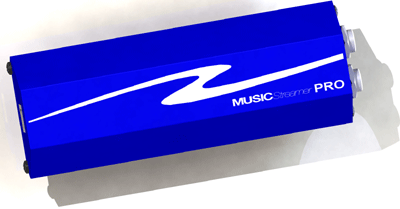 Music Streamer Pro
Also in the simple and easy category is the USB playback unit from High Resolution Technologies called Music Streamer Pro. This cigar-sized unit has a USB 2.0 jack at one end and two mini-XLR output jacks at the other. It's powered from the USB port and, as soon as you plug it in, you'll be streaming out up to 24-bit 96kHz audio out the balanced outputs. The unit self-installs and fully supports both adaptive and asynchronous transfer modes for jitter performance that exceeds conventionally connected bi-phase converters. More at www.hirestech.com.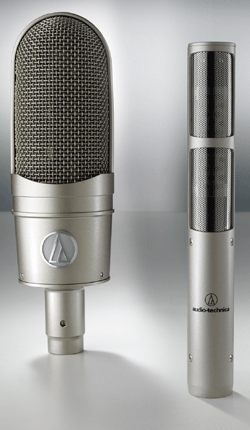 Audio-Technica AT4080 & AT4081 Ribbon Mics
Audio-Technica had two new ribbon mics at the show. Both the AT4080 and AT4081 Bidirectional Active ribbon microphones utilize a hand-built, proprietary design. Since they are phantom powered, there is not the usual worry with other ribbon mics about zapping them or the requirement of any special mic pre-amp or input impedance.

The AT4080 looks like an old-time ribbon mic with a rounded top and is recommended for vocals, horns, strings, acoustic instruments, drum overheads, orchestras, ensembles and guitar cabinets. The AT4081 has a futuristic 'wand' look that you might think is a pencil condenser. It is recommended for strings, saxophones, horns, acoustic instruments, drum overheads, orchestras, ensembles and guitar cabinets. Both of these mics are very glamorous looking and for studio and live sound. Check www.audio-technica.com.



Dangerous Music BAX Equalizer
Everything Dangerous Music makes is always great sounding and the Dangerous BAX is their first standalone equalizer unit. This one rackspace two-channel unit is a mastering/mix bus shelving EQ "inspired" by the classic design of P.J. Baxandall. The sound of this EQ reminds me of the tone controls on my dad's Hi-FI--big and broad Q filters that seem to sound better and better as you crank them up. I liked that the left and right channel 12dB/octave boost and cut controls for both the high shelf and low shelf filters are next two each other so you can equally set them visually for a stereo mix. You get seven frequency choices for each filter and up to 5dB boost/cut in 1/2dB steps--perfect for repeatability. Check: www.dangerousmusic.com.


Shure KSM 313 and KSM 353 Ribbon Mics
Shure's recent acquisition of Crowley Tripp microphones is great news for ribbon mic fanciers--like me. These two mics are exactly like the originals and both feature the magical Roswellite™ ribbon material. Roswellite is a super-elastic conductive and magnetic composite with shape memory and low inertia--you can wad it up like a chewing gum wrapper and it will instantly reform into its originally manufactured shape. It impervious to wind blasts and phantom power jolts yet is lithe enough to be used as a microphone diaphragm. The KSM 313 is dual-voiced--each side has a different sound while the KSM 353 is the Cadillac model--a stainless steel tube with a large, double-shielded output transformer. It's especially good for studio and concert hall recording. Both mics are hand built and come in wooden boxes. www.shure.com.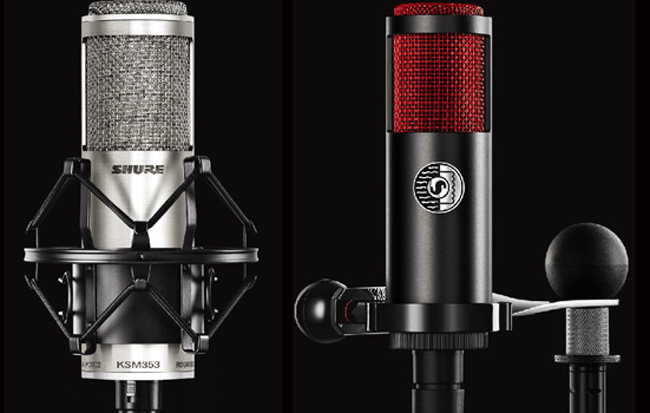 Tascam HS-P82
The Tascam HS-P82 is an 8-Track field recorder for music, television and film production. There are eight high-quality microphone preamps with XLR inputs to record up to 96kHz/24-bit audio with timecode on dual Compact Flash cards that support mirroring & cascade modes.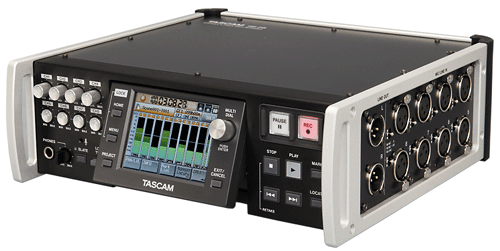 A stereo mix can be recorded in addition to the eight individual channels (10 tracks total) on this recorder housed in an aluminum chassis and with a TFT color touch screen. Other features are: long battery life through low power usage, 4-track recording at 192kHz/24-bit, Broadcast WAV (BWF) support with iXML metadata, power options include AA batteries (x10), NP type, AC adaptor, external DC input and optional V-mount adaptor for ENDURA batteries, up to 5-second pre-record buffer, internal microphone for slate recording, limiter and low cut filter per track, auto or manual cue points, alert signal to headphone output, retake function, and panel lockout. More at: www.tascam.com.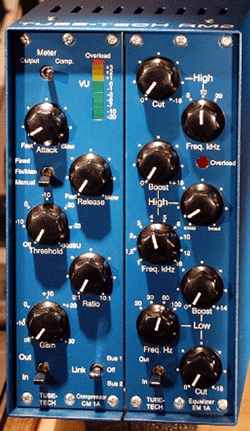 Tube-Tech RM 2
Tube-Tech has built the RM 2, a two-channel (and more affordable) version of their eight-channel RM 8 rack that'll hold two modules (instead of the RM 8's eight) like the CM 1A (a module version of the CL 1B opto-compressor), the PM 1A mic pre-amp, or the EM 1A equalizer. Since all these processors are tube-based, the RM 2's power supply and internal voltage rails are specifically built offering much higher supply voltages than the 500 series racks can offer. This is a great way to get into the sound of Tube-Tech--the CL 1B is my favorite vocal compressor of all time. Much more at www.tube-tech.com.

Glyph GT 062E Raid
Based on the original GT 062 raid drive with its multiple drive modes selectable with the Glyph Manager software utility, the GT 062E adds an eSATA port for blazing fast performance. The Firewire standard is being depreciated because it is too slow for modern DAW systems--you'll start to see the newer computers and peripherals without it soon. The GT 062E uses the next generation Oxford 936 chip, and hits over 200MB/s sustained throughput over eSATA in RAID 0 mode. That kind of speed is perfect for DAW mega track/region counts, or for high-def video editing. The GT 062E supports up to 3TB using 7,200-RPM drives, and 4TB using 5,900 RPM. All models support RAID 0, RAID 1, and spanning modes. Check www.glyphtech.com/products/gt062e/.

<



---
Copyright © 1994-- By Barry Rudolph All Rights Are Reserved.