"Enthusiastic" was the overarching feeling at the show as most manufacturers experienced good to great traffic flow at their booths from super-interested buyers and others. If sales were off in 2009 you couldn't tell it by the company-packed Halls A through C. Only Halls D and E had noticeably more empty floor space than last year. Some companies were conspicuous by their absence. Notably MIA were Apple, Native Instruments, and East-West Samples.

The enhanced door security policy where, upon every hall entrance you had to proffer a valid picture ID that matched your badge, worked well to cut down the number of non-industry people clogging the aisles.

Microphones, Microphones, Microphones!

I might be dreaming, but even not counting the bazillion "knock-offs," there were even more new microphones introduced at this show than at the last AES and NAMM shows. Most of the major microphone manufacturers had at least one new model or variant of an existing model to show off at this show.

Andf you haven't noticed, microphones now come in all shapes, sizes and colors--some don't look like mics at all.

The JZ Vintage V47 condenser mic looks more like a whiskey hip flask with its wide flatten oval shape. It looks like it could easily slip into my jeans' back pocket. It's from Latvia-based JZ Microphones and features a large, double-diaphragm 25-mm capsule, super low noise (6dBA), integral head shock mounting and a cool, swivel ball-joint mount. The pop filter mounts to the mic's body and the mic comes in a wood box like an expensive bottle of Scotch.

Wanna use a condenser on drums? Why not with a MXL Microphone Drum Cube? This odd-looking little guy is cardioid only and has a six-micron gold-sputtered diaphragm, FET electronics and will withstand 132dB SPL. It works with MXL's optional USM-002 shock mount but comes with the MXL V6-H clip. It sells for $149.95.

More conventional-looking are the new entrants to BeyerDynamics' MC 900 series of stick condensers. Just like the MC 930 with the same ruggedness, high sensitivity, and signal to noise ratio specs, the MC 910 has an omnidirectional pattern while the MC 950 has a supercardioid pattern. As a set, they both compliment the MC 930's cardioid pattern.

All three have -15 dB capsule pad and low frequency roll-off switches recessed on the side of the mic's body--a clean, handy approach. They are available immediately, and the MC 930 is now available in matched stereo pairs.

On the live side, Blue Microphones, which already introduced the Encore 100 and 200 live microphones at previous shows, brought the Encore 300. This handheld live vocal mic has a custom-tuned condenser capsule mounted on a rubber suspension system and is coupled with a matched, phantom-powered preamp circuit.

The Encore 100i is a live instrument microphone with a wider and flatter frequency response and a tighter polar pattern to reduce off-axis sounds. Built around Blue's proprietary Encore 100 dynamic capsule with custom-designed diaphragm and coil windings, custom-built transformer and high-pass filter to reduce stage rumble, the Encore100i eats up loud sound and asks for more.




Audio Patch Bays Are Passé


I thought Solid State Logic showed a great product--I'm going to buy one of these so this might be a biased report. It's the X-Patch, a software controlled patchbay contained within a single rack space. X-Patch is a 16 x 16 SuperAnalogue routing matrix borrowed from SSL's Matrix console.

Once you connect the inputs and outputs of all your outboard analog gear (four rear panel 25-pin D-Subs) and the I/O paths (+4 dB and -10 dB) to and from your DAW (PC or MAC), you can boot up SSL's Logictivity Remote Studio Browser application to set-up, configure, and store presets of processing chains comprised of up to six analog processors. X-Patch and your DAW computer communicate by way of Ethernet and up to six X-Patch units can be controlled in parallel. An awesome device indeed!

Musicians Just Want To Record

Maybe not specifically a pro audio product but none-the-less a new direction for live recording is called MyMix. From Movek, MyMix mounts on a standard mic stand and is a networked personal headphone mixer with a built-in multi-track recording system. Up to eight MyMix units can be connected to a standard Ethernet switch with each MyMix station capable of recording audio using its two, combo mic/line XLR inputs. You could record a vocal mic and your instrument on separate tracks at each MyMix station. If there are eight (or less) musicians/singers each with a MyMix station connected, each has a display showing who's connected and the ability to adjust mix levels and panning of all the other station's audio contribution.

In addition, there is mute, solo and effects send (reverb and delays) and a master four-band EQ for each channel also independent of the other players. The kicker is that all audio is recorded on an optional SD card in each of the stations and up to 18 tracks of recording (including a stereo mix) can be held. The audio is recorded as time-stamped 48-kHz, 24-bit .wav files that can be imported into any DAW for further work, editing and final mixing. At about $495 per MyMix station, I predict a big success for this product.

More Multi-Track Recording/Mixing On SD Media Cards

Tascam showed the DP-008 8-track Digital Portastudio that's about the size of a large paperback novel. Small enough to fit into a guitar case and based on the DP-004, the DP-008 adds four more tracks for a total of eight tracks with built-in mixing.

I liked that there are actual knobs (instead of iPhone-like menus) for volume and pan for each track, plus a reverb send knob for the built-in reverb effect. You get a backlit LCD to see and adjust the mixer, two XLR microphone inputs with phantom power, a guitar level input and a built-in electret condenser stereo mic for "right now" live recording.

There is a dedicated stereo mixdown track and EQ is available on each track and it all runs on four AA batteries or the optional power supply. And I can't forget mentioning the chromatic tuner and metronome, USB connectivity for exporting 44.1kHz/16-bit recordings, and the footswitch jack for hands free punching in and out.

The DP-008 will be available from Tascam retailers in October with an estimated street price of $299.

Lick Saver Ad Infinitum

There is no (technical) reason now NOT to get it perfect with the Korg SOUND On SOUND (SOS) Unlimited Track Recorder, a small battery-powered, handheld unit with a high-quality stereo microphone and a built-in speaker.

The Korg SOS allows for an infinite number of overdubs or alternate takes to be recorded with each take or overdub recorded as a 16-bit/44.1kHz .wav file, and saved directly to an onboard microSD or microSDHC card.

Since the header (BEXT chunk) is embedded with Broadcast Wave Format timing information, all tracks will line up when imported into a computer-based DAW system for further editing, mixdown and final playback. The SOS can record up to 200 songs in the traditional linear manner—about 100 recorded minutes per GB of memory.

The fun part is the 100 effect programs derived from Korg's acclaimed REMS modeling system that are divided into Guitar/Bass, Microphone and Master categories. Again, everything is controlled using a backlit touch screen so you can use the bass and guitar chromatic tuner, 50 different internal rhythm drum patterns, the "Sound Stretch" feature to alter playback speed without affecting the pitch, and the unlimited Undo function great for goof "players". like me.

Lastly, there is an internal microphone for capturing song ideas instantly, a 1/4-inch balanced instrument input, and both a 1/8-inch mic input and stereo line input, plus stereo headphone output.

Sony showed the palm-sized PCM-M10--the latest entry into the PCM-D1 and PCM-D50 portable stereo recorder model line. It shares several features and design elements including the same rugged construction and cool design. However, at $399, it does not share the price point of those higher end units.

The new recorder is 96 kHz/24-bit capable with electret condenser stereo microphones, 4 GB of internal flash memory and a microSD/Memory Stick Micro (M2) Slot. You also get a built-in loudspeaker, cross-memory recording, digital pitch control, digital limiter, low-cut filter, track mark functions, a 5-second pre-recording buffer and A-B repeat capability.

The new recorder includes an USB high-speed port for simple uploading and downloading of native .wav or .mp3 files to and from Windows PC or Macintosh computers. The M10 has a long battery life using conventional AA alkaline batteries.


.

Great New Software I Would Wear

I would be a poor cub reporter if I did not mention some new notable software shown for the first time at the Winter NAMM Show. First up is Universal Audio's Massive Passive plug-in emulation for their UAD-2 processor card.

UA had their modeling work cut out for themselves when they teamed with Manley Labs to release a plug-in version of the highly coveted Massive Passive stereo mastering EQ. Specifically, the two-channel, four-band Manley Massive Passive EQ utilizes the best design attributes from choice console, graphic, parametric and Pultec equalizers. Knowing EveAnna Manley, she would NOT sign off on this one "unless it was really going to be done right." The Manley Massive Passive EQ plug-in will be available for download directly from Universal Audio's online store.


Waves Audio never disappoints at trade shows by not showing something very cool and new. This time they expand their Waves Artists Collaborations with two new bundles and two new plug-ins.
The Chris Lord-Alge Artist Signature Collection and the Jack Joseph Puig Artist Signature Collection are bundles and part of the Waves Signature Series--application-specific processor chains these famous mixers use.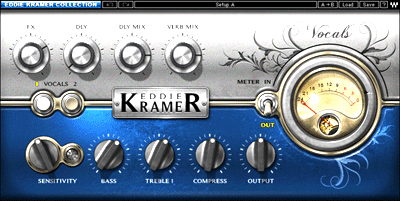 Also included are my favorites right now in the Waves Modeling Line: the Eddie Kramer HLS Channel and Eddie Kramer PIE Compressor (right).

Chris Lord-Alge gives us six plug-ins that are processor chains he prefers for processing bass, drums, vocals, guitars, effects and unplugged instruments.

Jack Joseph Puig also reveals a little of his tradecraft with his six application-specific plug-ins: JJP Bass, JJP Strings & Keys, JJP Drums, JJP Vocals, JJP Guitars and JJP Cymbals & Percussion. All were created from JJP's personal hardware processing chains.

The Eddie Kramer Collection includes The HLS Channel Strip, modeled on the Helios recording console from the Rolling Stones' mobile truck and the PIE Compressor modeled on the vintage Pye compressor, which was a mainstay in high-end British studios during the '60s & '70s. If these plugs sound like those rare and unique units, this will be a big winner for me!
Old Is New Again Hardware!
Pete's Place and Orphan Audio showed the "resurrected" Electrodyne 501 mic pre-amp and 511 EQ both ready for Series 500 racks. (left)
After about 1975, I would have never expected to ever hear the awesome Electrodyne sound again. The original consoles were fantastic, short signal path wonders. It is only because Ken Hirsch's (Orphan Audio founder and designer) passion for the brand and meticulous dedication to preserving the sonic authenticity of the original products that this stuff is now available.
The Electrodyne 501 is a two-stage, discrete transistor, transformer-coupled preamp with active DI based primarily on the modules found in the classic 1608 console. It has 68 dB of gain, -20 dB pad, and output level pot. The Electrodyne 511 is a classic two-band, discrete transistor, reciprocal, active inductor-based equalizer using late-'60s/early-'70s design technology. It has +/-12 dB of boost and cut and four selectable frequencies per band. Both the 501 and 511 deliver a maximum output of almost +30 dBm into 600 ohms and they come with '70s NOS Electrodyne knobs from the original factory.
---
Copyright © 1994-- By Barry Rudolph All Rights Are Reserved.