How do you review an icon? Often seen in photographs along with iconic people from dictators to heads of state to Rock N' Roll stars, the 55 is the most recognized microphone in the world. First produced in 1939, the original Model 55 Unidyne™ microphone was the first single-element unidirectional dynamic microphone.
From its beginnings at that time and being a cardioid pattern microphone, its smaller size made it a true classic that was affordable and accessible to all. Then as well as today, its impressive 'art nouveau' satin chrome-plated die-cast case was closely equaled by its break though performance. The Model 55 (unlike competing omnidirectional microphones back then) was able to operate in close proximity to loudspeakers without creating feedback. Its characteristic Shure presence peak made it excellent for vocal pickup in any situation from radio broadcast to live shows.
What most people know and think as the 55 was called the Model 55S and was a smaller version of the original Unidyne 55. First produced in 1951, Shure now makes an updated version called the 55SH Series II. Essentially the same as the 70-year old Unidyne except for modern internal acoustic components are used to bring it up to present day requirements.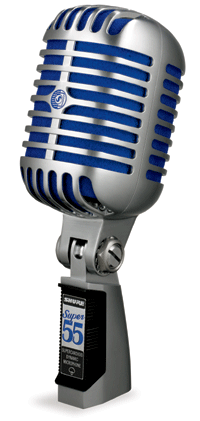 Super 55 Deluxe Microphone
Both the cardioid polar pattern and the same presence peak of the original 55 are incorporated into the 55SH along with an on/off switch, a new cartridge shock mount to reduce stand noise, and a redesigned swivel stand mount that permits tilting from 45 degrees forward to 80 degrees backward.
And Now The Super 55
Most of the 55SH's features and touchstones of quality come with the Super 55 Deluxe Vocal Microphone. Exactly the same sized chrome-plated die-casting is used and differences begin with an enclosed supercardioid element behind a vibrant blue foam material. A blue "Circle S" logo is on the Super instead of the black logo seen on the 55SH and then there is that shiny new Super 55 nameplate. The 55SH has a wider low frequency response while the Super 55 has more high frequency extension but retains the 55SH's "voicing" for natural-sounding vocal/speech recording.
But say goodbye to the old on/off switch on the Super--these days it does not have a place on stage and especially not in the studio. (Good riddance!) The Super 55 is also heavier and 5dB more sensitive than the 55SH model.
In The Studio
In my Tones 4 $ Studios there are plenty of good applications for the Super 55. I used it without an EQ or compressor--only my RTZ Professional Audio 9762 Dual-Combo Mic Preamp, a super high-end Neve 1272 copy.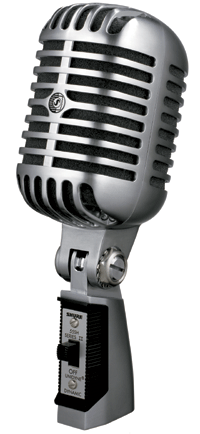 Shure 55SH Series II

I recorded a Martin D28 acoustic guitar with the mic positioned above the twelfth fret. The voice-tailored frequency response worked out well to produce a bright sound with less emphasis on the guitar's boomy bottom end. I found this brighter sound unusual for a dynamic mic--I expected a more nasally version of what I would obtain with a small diaphragm condenser mic.

Compared to a Granelli Audio Labs G5790 Right-Angle SM57 (which is a brand new Shure SM57 modified with a 90-degree elbow in the middle), the Super 55 was clearer, less compressed and a little warmer in the low midrange. Just to make sure, I confirmed this with another brand new, stock SM57.

I have to squawk about one thing. The mic's XLR connector is positioned so close to the threaded hole in the base of the mic, that there cannot be any threaded washers usually found on stands and booms. You'll have to remove them so the mic cable's XLR connector will plug in. I didn't try them but I'm betting that Atlas quick disconnect mic hardware will not work with the Super 55--and that's OK with me as I never trust them with heavier mics.

On electric guitars, I played through my ZT Amps LunchBox guitar amp and the venerable SM57 won only by a nose with its overall thicker midrange sound. As with most guitar amps, the SM57 has a way of increasing the midrange "guts" of the sound.

On the same amp the Super 55 was brighter with very slighter more low end. It worked better when I moved it further off center and towards the edge of the amp's speaker. Both the 55 and 57 were pushed right into the amp's grill cloth.

On voiceovers, the Super 55 delivers a radio-ready vocal sound. I preferred having the voice talent aim right into the front of the mic, as the mic's supercardioid pattern does not allow for any free ranging around the mic. If you talk into the side of the mic, you're gone--not heard!

I got nearly no room tone with this mic even when recording in a medium live space. I liked the amount of proximity effect of this mic too: it's not exaggerated allowing some forward/back head movement without a huge increase/decrease in bass.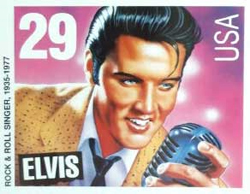 Elvis On The 55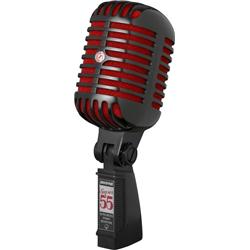 Shure Super 55-BCR Black Special Edition Deluxe Super 55

The great proximity sound might explain the many pictures taken of Elvis Presley on stage leaning over and erotically caressing a 55 in front of his band.

He holds the 55 so close to his mouth that it looks like he was about to take a bite of a forbidden fruit. When that close, I'm betting he could hear and liked the bass build up while singing in the lower registers. In truth he probably was leaning over straining to hear himself over the anemic sound systems of those days.

Around drum kits, the Super 55 is physically bigger than most dynamics normally used on kits and will preclude using it in tight spots such as close to snare drums. Boomy bass drums benefit from its bright attack sound and if you can get it close enough to a snare drum (to get enough proximity) you'll get a sound that won't require any EQ.

I found the Super 55 a refreshing new/old tool in the studio that just works so well in many applications. Its look is an immediate conversation starter that's backed up by its impressive sonic qualities.

The Super 55 Deluxe Vocal Microphone is part of Shure's Classic Collection along with the 55SH Series II, the 520DX Green Bullet, 545SD Classic Unidyne® Instrument mic, and the 565SD Classic Unisphere™ Vocal mic.

There is also the R115S Cartridge kit that includes the cartridge, mounting plate, and detailed instructions. When properly installed in the Super 55 Microphone, the R115S will provide performance equal to that of the original cartridge.

The Super 55 sells for $249 MSRP. For much more, visit www.shure.com/



Shure Classic Series--55SH Series II, 545SD, 565SD, 520DX "Green Bullet", and Super 55

Shure Model 55SH Microphone Technical Data:

Type: Dynamic moving coil
Frequency Response: 50 to 15,000 Hz
Polar Pattern: Cardioid
Impedance : 270 ohms
Sensitivity at 1kHz: -58.0 dBv/Pa 1 Pascal=94 dB SPL
Case: Chrome-plated die-casting
Dimensions: 55.6mm width 188mm high 77.8mm deep
Net Weight: 0.624 kg (1.37 lb)

Shure Model Super 55 Microphone Technical Data:

Type: Dynamic moving coil
Frequency Response: 60 to 17,000 Hz
Polar Pattern: Supercardioid
Impedance: 290 ohms actual
Sensitivity at 1kHz: -53.0 dBv/Pa 1 Pascal=94 dB SPL
Construction: Chrome-plated die-casting
Dimensions: 55.6mm width 188mm high 77.8mm deep
Net Weight: 0.656 kg (1.45 lb)
---
Copyright © 1994-- By Barry Rudolph All Rights Are Reserved.