Vielklang is the wonderful creation of the wunderkinds at zplane.development in Germany. Vielklang is a virtual instrument that runs in VST, AU or RTAS DAW hosts and produces up to four harmony notes from a single vocal or lead instrument (monophonic) track input. Vielklang uses a kind of "fuzzy logic" to automatically synthesize the most fitting and natural harmonies predicated upon a "scan" of an audio file of the melody. The melody's implied scale, pitch and phrasing are all detected and considered in harmony synthesis.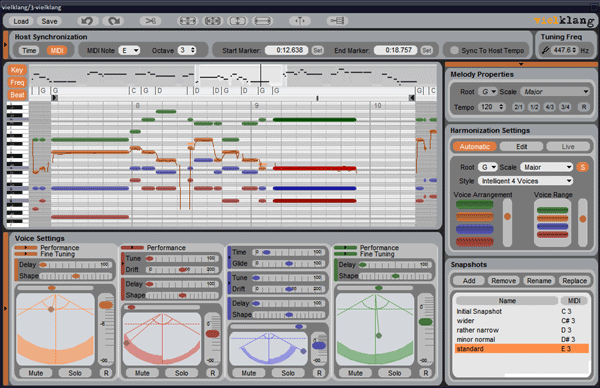 Vielklang's Main Window
Vielklang's designers have designed an "intelligent" instrument and hope that users be not too concerned with musical theory, the root note or scale, voice leading and harmony progression. You do not have to know music theory to use VK.
Version 1.5 adds six new automatic harmonization styles; a Live MIDI mode for playing your own chords and harmonies on your system's external MIDI controller; better melody analysis; the ability to save voices and MIDI data either as audio or MIDI files; save chords of the harmony bar as MIDI information; and 64-bit Win host support.
Vielklang instantiates like any other virtual instrument in Pro Tools using a stereo Instrument track. Vielklang has a stereo mixer and output since each of the four synthesized voices may be panned and adjusted in level using the onboard mixer panel. You may also assign the four voices to separate outputs.
The vocal or instrument track you desire to harmonize has to be loaded beforehand into VK as a contiguous file--you can also drag and drop the file onto the plug's main window. This file should start at the beginning of the session so that the host tempo synchronization feature works correctly. The loaded audio file will now play out of VK in synch with your track. Though files have to start at bar one for time sync, files that start elsewhere will start like a sample triggered via MIDI. It is also possible to set an offset in the Time mode using the Host/Plug offset option.
After processing, the vocal track shows up in VK much like a track in Celemony's Melodyne--note "blobs" running horizontally in time and vertically up and down according to pitch. On the left side is an animated piano keyboard that indicates each note pitch and there are numerous zoom options over this "piano roll" view of the audio. To zoom in, select a region area with the Start and End buttons and that region can fill the screen of the entire plug-in GUI if you want to really "get down in the weeds."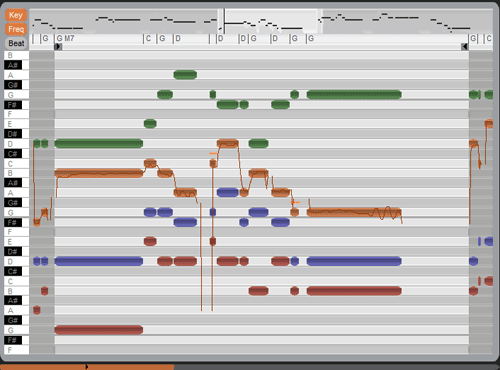 Vielklang's Pitch View Window Zoomed In


Once VK has your vocal or instrument's audio, you can individually drag with the mouse any harmony note(s) to different pitches if you don't like what the Automatic mode came up with. You may adjust harmonization range, preserve (or NOT!) formants while pitch shifting and/or time stretching, and adjust pitch quantization, delay, timbre, and timing.

Just above the Pitch View is the Harmony Bar and it shows, in separate time line, the four voices generated for the Intelligent harmonization style.

There are three main windows to set up and control VK: the zoom and expandable Pitch Window where all pitches are viewable and editable, a setup window that's divided into a Melodies Properties where the extracted key, scale, and stop and start time of each note plus session BPM are shown. Next are the Harmonization Settings, where harmony styles can be chosen and the Snapshot storage pane where up to 32 snapshots of harmonization status are saved or loaded. Lastly, Voice Settings is where each of the four voices are mixed, fine tuned, and "humanized" using both delay and formant modifiers and changes in the amount of pitch correction and drift.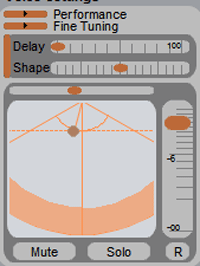 Voice Window--One of Four

With Vielklang, a whole new layer of sound is easily added to any music mix. My first foray was to have it generate a simple harmony on a guitar solo. After loading the original guitar track, I had four outputs including the 'prime' or original pitched solo playing out. You would have paid a dollar (at least) to see my guitar player's face when I played back his solo now with two harmonies playing along! I panned the two new voices mid left and right, the original melody in the center and found them slightly duller than the original--nothing a little EQ wouldn't fix up.

All of Vielklang's capabilities and functions are not instant or intuitively available--it is a plug-in to learn. I found my time going through the manual well spent to realize the full power of this instrument.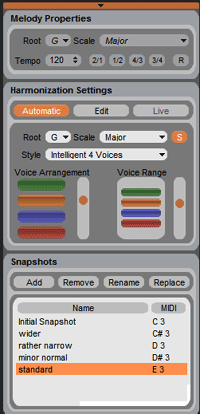 Properties Window
On vocals, I found the effect of one or more voices in unison to be a very convincing double track--as if the singer went out and tracked the vocal the old (and sometimes time consuming) way. I changed the formants, the pitch correction amount and the delay or timing of the generated 'double-track' voice all to simulate typical double-tracking vagaries. My singer, at first playback of my mix asked: "who sang the double?"
Producer/songwriter David Gamson comments on his use of Vielklang.
"The MIDI input opens up lot's of interesting possibilities in Vielklang. This is called 'live harmonization' mode and there are two ways for the program to interpret the MIDI notes you play. In "harmonies" mode VK will still automatically re-harmonize the melody using it's own choices for voice leading but it will use the chord you are playing on the keyboard as the reference for possible pitches. But keep your chord choices quite simple for Vielklang to make sense of it. As the technology exists in this version, I found three note triads and seventh chords work fine and more complexity like added ninths nicht zu gut.
There is also the "pitches" mode that uses exactly the voicings you play via the MIDI keyboard--it plays exactly the notes that you give it. In this mode, Vielklang works like a very clean sounding four voice vocoder. I found that if I used "pitches" mode and played with the "performance" and "fine tuning" controls on each of the voices some very interesting and non-human effects can be created."
Vielklang sells for $219 and is available Native as a RTAS, AU or VST instrument plug-in. For more information, demos, and to buy it, go to: vielklang.zplane.de
---
Copyright © 1994-- By Barry Rudolph All Rights Are Reserved.