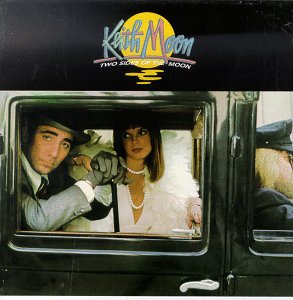 Keith Moon was like a light bulb on double voltage that burns very brightly but not for very long. I used to call Keith "Kinetic Keith" because he couldn't sit still for more than a few seconds. I met Keith through Steve Cropper who was charged with producing three songs for an ill-fated solo Keith Moon MCA album.

Keith and Cropper chose three songs from notable songwriters they both knew. I remember one song by Randy Newman called "Naked Man." It was about a guy caught in bed with another man's wife when the husband comes home. Having only one chance to escape, the guy leaps out of the bedroom window naked; probably a true story for Keith Moon!

The sessions were held at Clover Studios on Santa Monica boulevard just East of Vine street in Hollywood, CA. Clover was down the street from famed Hollywood studios Crystal Sound, Goldstar Studios and across from Studio Instrument Rentals and Paramount Recording Studios. (no affiliation with Paramount Pictures). Clover Studios and Steve Cropper were managed by Lee Housekeeper and the chief engineer was Toby Scott who went on to become Bruce Springsteen's engineer after producer Chuck Plotkin took over the studio and started work on an early Springsteen album.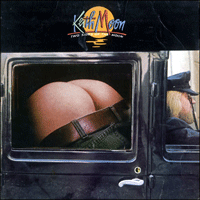 There are many stories told about these recording sessions and the first one designates a list of the musicians. We had: Ringo Starr AND Keith on drums, Klaus Voorman on bass, Joe Sample on piano, Cropper and Lee Ritenour (I think) on guitars, Ron Wood on overdubbed guitars, Booker T. Jones on Hammond B3, and David Bowie on backing vocals.

I remember while setting up the session and Ringo's drums arriving. I was in total bliss...I was going to record Ringo! When the cartage guys brought in his kit and the trap case was stenciled "The Beatles," I gulped. The kit had calfskin heads and used a wood-rim bass drum on its side for a floor tom. All the drums' natural light wood finish and cymbals were completely covered in filth--dirt from stage hands handling the kit for years! They sounded fantastic! In those days, I miked them in my usual way, allotting only about five or six mics total.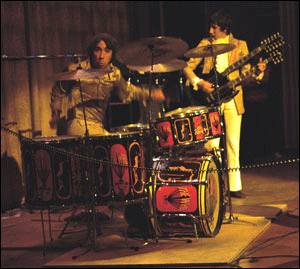 Just then, the president of Camco drums came in and set up, a brand new kit for Keith in the middle of the studio. Keith usually played Premiere drums so the pressure was on to sway him over to Camco. The Camco kit was enormous with double bass drums, six tom-toms and an array of cymbals. Keith inspected the kit and announced that the rack toms must withstand the rigors of The Who's shows. The guy looked on as Keith began an elaborate gymnastic/drum solo that culminated in a back flip and a hand stand on top of the rack toms. The brand new hardware supporting the toms bent in half under Moonie's weight causing him to fall. Miraculously, he was unhurt!! This hardware was unacceptable to Mr. Moon and he walked out in a huff. The Camco president was very apologetic and assured Keith that reinforced, customized hardware would be built immediately.

When Ringo walked in and saw Keith's gigantic kit and then looked to see his diminutive drum set way off in the corner he said: "If you think I'm going to compete with that, I'm fucking leaving!"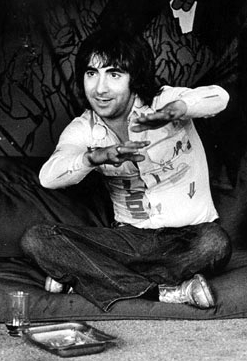 Ringo started for the door. Steve Cropper jumped in and said something to Richie that smoothed everything out. We tried recording with both Ringo and Keith playing together but that lasted for about half a song. Keith's drumming style did not mesh with Ringo's steady, clock-like playing. For the best result, we ended up overdubbing Keith's drum fills. This worked out well for both sonic and practical reasons; to record the massive drum kit all 20 microphone inputs of the old Clover Systems console were required, leaving nothing for the rest of the band.

Ringo turned out to be a real sweetheart of a guy--always very respectful to everyone. The only thing he said to me all evening was "turn me bass drum down mate."

As I recall, the tracking session went well and we recorded three songs; the aforementioned "Naked Man", "Do Me Good", and "Real Emotion."

David Bowie came in to do backing vocals. Bowie's entourage looked like a casting call for a circus movie---a pretty freaky-looking crowd that filled up the entire control room. David was very fast at composing and singing and I don't remember producer Cropper adding anything to Bowie's ideas--Crop sat back and enjoyed.

At one point Bowie asked "to ADT his voice" and Cropper turned to me to see if I knew what that was. So I had the satisfaction of being the only person in the control room knowing what he meant. ADT or Artificial Double Tracking (also called Automatic Double Tracking) was a tape recording trick developed in England for the Beatles and used subsequently by others. Apparently it was typical "du jour" for Bowie recording sessions at that time. Clover had an old Revox reel-to-reel machine that I managed to get going at 60 i.ps. for a faux version of ADT that was OK with David.

In the following weeks, we settled in for overdubbing vocals, drums, guitars, keyboards, more backing vocals and all the rest. I never mixed the songs officially--only roughs for reference.

Keith was a real character. During those sessions, he would disappear for hours and nobody would know where he was. He couldn't (or wasn't allowed) to drive and his driver/valet lost track of him several times. We got worried one night and launched a search party at 2 A.M. We found Keith passed out, face down, in a big puddle, in the studio's parking lot. We would have never guessed that event would portend his future!

Get Yours Now At Amazon.com!
Super Great News!
Premier Percussion Ltd has just announced a special limited edition drum kit, "Spirit of Lily" which is named after the Who's 1967 single "Pictures of Lily". The drum kit will retail for £4,995, and will include the original artwork that adorned the original kit and drum sizes played by Moon. Read my "New Toys" write up about this great new kit here.





More Super Great News!
On July 3rd, 2006 Castle Music will release Keith's rare solo album "Two Sides of the Moon" as a Deluxe Edition CD, featuring previously unreleased bonus material including rare out-takes, special mixes, spoken word and extensive liner notes. Guest musicians include Ringo Starr, David Bowie, Harry Nilsson, Ronnie Wood, Flo & Eddie, Steve Cropper, Joe Walsh and Dick Dale.

This album will include the 1975 Clover Masters I engineered and I can't wait to hear them again!!