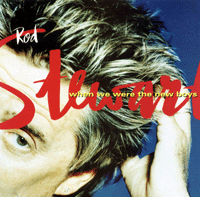 I first worked with Rod, his band and producer Tom Dowd on the "FootLoose & Fancy Free" album at Manta Sound Studios, Toronto, Canada. I received no credit and that's showbiz! I recorded four tracks, one of which was "Hot Legs." Rod was as flamboyant as ever. This was the first time Rod used three guitar players at the same time in the studio and that kept both of us very busy. "Hot Legs" was inspired by the Rolling Stones' "Tumbling Dice". Rod and the band kept playing a cassette copy of th song over and over trying to elicit the same free-for-all feeling.

Rod Stewart is one of the shrewdest and most intuitive person I've ever met. Besides, he left me dumb-struck after singing just a "guide" vocal track along with the band. Truly, an awesome talent!

Flash forward to 1997...finds me working again with Rod on his latest album called "When We Were the New Boys". Both Rod and Kevin Savigar were the producers.

Weeks before I started my work on the album, Oliver Leiber called to ask me to come up to his studio and help the (then) engineer set up a tracking session as his studio. Moi? Help set up another engineer's session? Apparently Oliver (who is not all that technically minded) was very concerned after watching the engineer patch up mics etc. I went up and did find some very strange signal chain setups that just reflected the engineer's lack of knowledge of the old Soundcraft console topology.

I tried to help the (at first) thankless engineer and after saying "hi" to Rod, I left. I quickly forgot about that day until about a week later I got another phone call from Oliver asking if I was free to take over the project.

Rod and the band: principally Oliver Leiber and John Shanks on guitars, Lance Morrison on bass, Kevin Savigar on keys, and drummer Dave Palmer had been recording using Guy Charbonneau's Le Mobile Remote Recording Studio. They were now all ensconced at Oliver's Hollywood Hills manse and studio--a facilty I was well-acquainted with.

Since I came into the project after the first two engineers were fired; sensing my replacability, I never expected to last long. After my first two days, Rod told me in front of everyone that he loved the big improvement in the sound. He asked if I would like to record the rest of the album and mix it as well.

I was floored! No artist had ever said something like that to me before!



I worked on it from the end of Sept. '97 to the end of March '98. It was great fun to be part of a good Rock and Roll record! The album was released on June 2, 1998 and the first singles were entitled "OO La La", an old Faces tune, and "Cigarettes And Alcohol" penned by Oasis.

As an album kick off, Rod signed autographs at Tower Records on the Sunset Strip on June 2th at 6 pm. He then played a free show in the parking lot which was followed by a later show down the street at The Roxy. After that, he did a third show at the Whiskey! This "trifecta" culminated in a midnight party at the Sky Bar.

December 2008 and my friends Brian Kehew and Andy Zax have worked to present and release the first of many albums and DVD sets called "The Definitive Rod Stewart" Deluxe collection. It includes a song called "Two Shades of Blue" that I recorded during the "When We Were The New Boys" album project. It is great to see that song finally "see the light of day." So stay tuned for more of Definitive Rod albums that promise to have other unheard gems by Mr. Stewart!



Get Yours Now At Amazon.com!



Get Yours Now At Amazon.com!



Get Yours Now At Amazon.com!