Retro Instruments 500PRE Tube Mic Preamp

Close Up Of The Front Panel
Retro 500PRE Tube Mic Preamp
Unbelievably the wizards at Retro Instruments have released a single-channel tube microphone preamp/line amp module that fits into a single slot of a 500 rack. Inside are three premium TAD 12AT7 tubes and CineMag input and output transformers. Based on Retro's Sta-Level classic limiter circuit, the 500PRE has both high (75dB) and low gain (48dB) modes available using either two or three of its tube stages. Total 500 slot current drain is 160-mA and just over the allowable VPR spec.
The front panel has full size switches and control knobs for: Input Gain control, Low or High Gain Modes, 48-volt phantom power on/off, Invert off/on "flips" the polarity of the balanced mic input line, and the Output control sets final level.
I ran the 500PRE in an API 8P High Current 500 rack (250mA per slot) and began testing using it as the preamp for my Bock/Soundelux U195 FET condenser microphone. I wanted my big chested singer close to the microphone; I had the mic set in Norm mode with no Lo Cut or -10dB attenuator pad.
My artist sat and sang about three-inches away with my Pete's Place Blast Pop Filter deployed just in front of the mic. I also had a Blue Microphones' Blackout Spark on his acoustic guitar over the 12th fret but aimed back across the sound hole towards the bridge.
I tried my single 500PRE for both the vocal track and the acoustic guitar recordings separately. On the vocal, I used the Low Gain position set to about "50" position and the Output control varied from 50 up to full for quieter bits and the cleanest sound. The Output control works just like using the fader on a recording console. For some light compression, the 500PRE's output was patched into another favorite of mine, the Retro Instruments 176 Limiting Amplifier. This is a glorious combination that I can recommend to any engineer looking for an awesome and big sound using any microphone. I instantly obtained natural dynamics using a 4:1 compression ratio and medium attack and release times.
I then tried that same chain for recording the acoustic using the Blue mic. After adding a little more gain and less compression, it was awesome as well. It was easy to get his 6-string Taylor sounded big, warm with clarity, and good dynamics and presence.
The 500PRE has so much controllable gain available that, by way of using just the Input and Output controls and selecting either the Low or High gain range, you will have many more possible sounds than most microphone preamps. If you drive the input hard (it'll take up to a +10dB line level) the tubes will self-limit--so turning down the Output control will set a proper final level without distorting the next processor in your chain. Or back the Input Gain down, run the Output up at max and go totally legit and clean if you desire.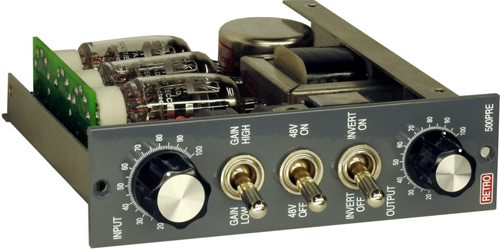 Shield Cover Off--A Look Inside The Retro Instruments 500PRE Tube Mic Preamp

I also tried the 500PRE for a direct guitar recording using a Jensen Transformer JIK D1B Iso-Kit Direct box. My Fender Strat never sounded better direct with a crystal-clear yet full-bodied presence. I mostly used Low Gain Mode and made up some level through the 176. This is a sweet sound I use all the time now and is great for tracking in a live room with other musicians!

But I also tried the High Gain mode on the 500PRE for the same guitar and was surprised by the coolest sound immediately! I didn't need the 176 any more as I had loads of saturated level for the coolest overdriven sound. Both the Input Gain and Output Level were "dimed out" at 100!

Save a couple of 500 slots for two, Retro Instruments 500PRE microphone preamps! The most versatile tube microphone/line level processors I've seen. The Retro Instruments 500PRE is available now for $899 MSRP.

Much more at: www.retroinstruments.com/product.php?product_id=500PRE.




---
---
---
Web Page design is copyright © 2020 by Barry Rudolph