Premier Percussion Spirit of Lily Drum Kit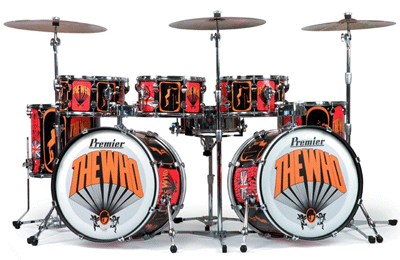 Timed to match the re-release of the Castle Music "Two Sides Of Moon" album on July 3, 2006 from Castle Music by the late Keith Moon, Premier Percussion Ltd has a special, limited edition drum kit, Spirit of Lily which is named after the Who's 1967 single "Pictures of Lily." The single also appeared on "Meaty Beaty Big and Bouncy," a collection of the group's singles. The drum kit will retail for $4,995, and will feature the original artwork and exact drum sizes played by Moon.
The drumset uses Premier Series Birch drums with Premier Series lugs, fittings and die-cast hoops. The set up emulates the original eight-piece setup comprised of three, 14 X 8-inch mounted toms, two 16 X 16-inch floor toms, two 22 X 14-inch bass drums and 14 X 5.5-inch steel snare drum. The kits will only be available for a period of 14 months, one month to represent each of the 14 years of Keith Moon's relationship with Premier.
The Spirit of Lily drumset is officially authorized by the estate of Keith Moon and also by Roger Daltrey and Pete Townshend of The Who. The first set made by Premier will be donated for auction to raise funds for The Who's Teenage Cancer Trust Charity.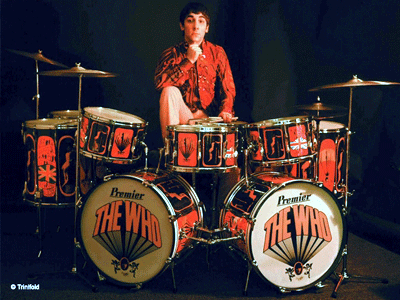 Moon, who passed away at the age of 32 on September 7th, 1978, would have celebrated his 60th birthday this year (August 23rd). One of the most influential musicians in Rock history, Keith Moon is Premier's most famous endorser of all time. Moon signed an exclusive endorsement agreement with the Premier Drum Company on September 6th, 1965 and it was to be a relationship that lasted his all too short lifetime. For further information on the Spirit of Lily replica drum kit, go to: www.premier-percussion.com/
---
Web Page design is copyright © 2006 by Barry Rudolph