Heil Microphone's PR 20 UT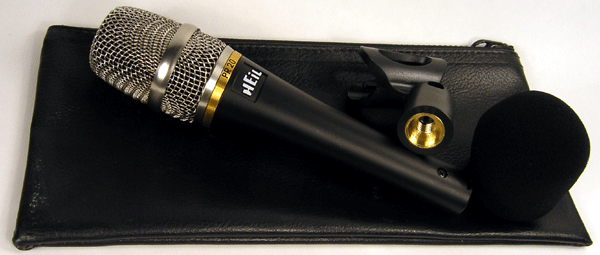 I love when manufactures show the "love" by producing a lower cost version of one of their most popular (and profitable) products! In competition with only himself, Bob Heil builds on the highly successful PR 20 with the Heil PR 20 UT--an exact copy but lower cost version of that dynamic microphone. The "UT" stands for Utility.
Priced at $115 MSRP (versus $179 for the PR 20) the PR 20 UT has the same specs and performance characteristics as the PR 20 but is delivered in a stripped down package. So it is sans all the PR 20's standard accessory kit including: a set of three interchangeable screw-on gold, silver and black grills and a padded carrying case. This "working-man's hero" has the same wide frequency range, low handling noise and the ability to handle +140 dB SPL--you can mic the quietest singer to the loudest snare drum played with baseball bats. The PR 20 UT microphone is usable in extremely high sound pressure levels and is immune to overload conditions making it perfect for live vocal and instrument applications as well as for serious studio recordings.
Here at my Tones 4 $ Studios, I tried the PR 20 UT on voice-overs, acoustic guitar and snare drum. I found in all three situations the sound to be very reminiscent of a high-end condenser mic but with the immediacy of a dynamic that I love. It has a crisp top-end with a slight bump in the bass that fills out whatever I record. Compared to my Shure SM57s, it has a much smoother response with silkier high frequencies.
Heil Sound maintains corporate headquarters and manufacturing facilities in Fairview Heights, Illinois. For more information, visit www.heilsound.com.
Other Heil Microphones Reviewed At This Site:

Heil PR 48 Kick Drum Dynamic Mic
Heil PR 31BW (Half Size PR 30) Dynamic Mic
Heil PR 40 Dynamic Mic
---
Web Page design is copyright © 2009 by Barry Rudolph