PR 48 Kick Drum Mic from Heil Sound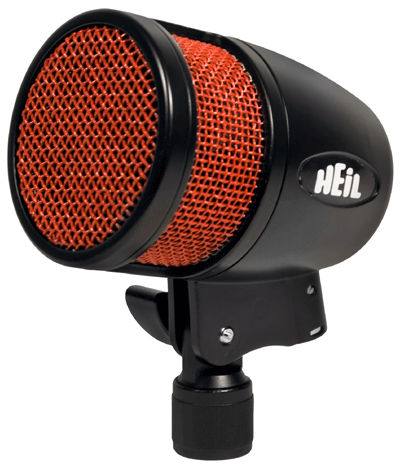 Originally featured as a part of Heil Sound's HDK Series drum microphone kits, the PR 48 is now offered as a standalone product. Bob Heil's fingerprints, the master himself, are all over this kick drum mic. After consultations with numerous professional drummers, Heil designed this dynamic microphone with a mammoth 1.5-inch diaphragm mounted in a vulcanized double shock mount that offers complete isolation within mic's rugged cast metal housing.
You know an actual recording engineer designed the PR 48 because of the few small touches only live and studio engineers would appreciate. One nice touch is the slanted entrance to the 3-pin balanced XLR so the mic's cable is easier to connect.
Another feature is the specially designed bandpass filter/EQ with -3 dB corner frequencies at 30Hz and 8kHz and a +10 dB boost from 50 Hz to 80 Hz. The roll off at 8kHz tames unwanted top end cymbal wash that usually gets into kick drums mics but still allows frequencies critical to a kick drum's beater sound to be heard. The microphone's output impedance is 600-ohms and can handle over 150 dB SPL. The PR 48 sells for $274 MSRP and for more information, visit www.heilsound.com
Other Heil Microphones Reviewed At This Site:

Heil PR 31BW (Half Size PR 30) Dynamic Mic
Heil PR 20 UT (Lower Cost PR 20) Dynamic Mic
Heil PR 40 Dynamic Mic
---
Web Page design is copyright © 2009 by Barry Rudolph