If there is an economic recession you couldn't prove it by attending the 2009 NAMM show this month at the Anaheim Convention Center in CA. Although most exhibitors felt the general traffic flow around the show floor was less than the 2008 show, the furious business action in the booths more than made up for it. Manufacturers were well armed with "ready-to-ship" gear promised at the AES Show last October or brand new products ready soon. Here are a few winners I instantly gravitated towards as I made the rounds.

Chandler Limited Little Devil Compressor

If you own an API (or other manufacturer's) Series 500 rack know that the list of compatible modules fattens with Chandler's Little Devil compressor and equalizer. Wade Chandler is able to use discrete components, transformers, inductors (in the EQ) and no ribbon cables or surface mounting techniques within the small size of these modules. My fave was the Little Devil Compressor; an FET (Field Effect Transistor) loosely based on his Germanium Comp and the design of the Neve 2264--notably the transformers used. You get three ratios, variable attack and release, full hardwired bypass, variable frequency sidechain filter (yowsa!), and Chandler's THD selector--as if this compressor isn't colorful enough! The module finishes with the cutest VU meter I've ever seen. Much more at: www.chandlerlimited.com/products/little_devil.php.

Pete's Place BAC-500 Compressor


Part of A-Designs is Pete's Place Audio and they now have the BAC-500 compressor for the 500 Series racks. The BAC or Brad Avenson Compressor is a feedback-style FET compressor built around two discrete op amps and a custom wound output transformer. Considering the limited real estate on these modules, like the Chandler, it is also a single-space unit featuring large, man-sized silver rotary input and output knobs. Smaller pots for attack, release and ratio are used and additional features include a three-position sidechain contour switch, eight-LED gain reduction meter, and pushbuttons for distortion and bypass. With five ratio positions ranging from 2:1 to 20:1, you can configure the BAC anywhere from smooth, totally innocuous compression all the way to pumping and breathing limiter effects. Much more at: www.petesplaceaudio.com/.



Read Barry's Mix Magazine Compressors and Compression Feature.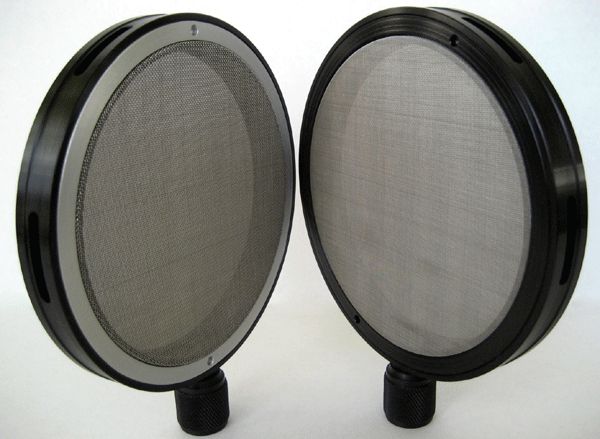 Blast Filter
Pete's Place also showed the most effective and best-looking microphone pop filter I've ever seen. Peter Montessi refers to this all-metal beauty as the Blast Filter and it enables the use of condenser or ribbon mics in generally verboten applications. Mounted on a standard microphone stand or gooseneck, not only does this filter kill air blasts P-popping and other plosives, it also lowers the actual SPL from kick drums, guitar amps, or ridiculous loud singers who insist on eating the mic!

It's a good idea to use one of these to protect and perserve expensive and precious studios mics because over time, high sound pressure levels from kick drums, amp stacks, horns, harmonicas, powerful vocalists ultimately distort and/or damage ribbon and large diaphragm condenser microphones.

Weighing in at about five ounces and at five inches in diameter, the filter is made using an anodized aluminum ring with two different mesh sizes of stainless steel screens sandwiched together. It is a chambered dual-screen filter with six ports around the outer edge of its circumference. Being all metal, it is easily cleaned with soap and water.

Air exit ports are machined into the ring's circumference. I've been using this in the studio and it is like an insurance policy for any sensitive mic I know would sound great on loud and raucous sound sources but didn't want to risk it.

The Blast Pad sells for $297 MSRP. Check out more at: www.petesplaceaudio.com/filter.html.

Focusrite Liquid Saffire 56
Focusrite launched their latest addition to the Saffire range with the Liquid Saffire 56. Saffire 56 is a 2U Firewire audio interface/recording consolette that has two Liquid Channel mic pre-amps (out of a total of eight mic channels) with your choice of ten different mic pre-amp emulations. These include emulations based on the Neve 1073, Pultec MB-1, Telefunken V72 and seven more. A harmonics dial on each Liquid pre-amp will creatively add levels of 2nd, 3rd and 5th harmonic distortion. This would make Liquid Saffire 56 the first 8-channel mic-pre that can be set with three different types of pre-amps simultaneously. (Two different Liquid Channel emulations and the standard Focusrite.)
Liquid Saffire 56 acts as either a master clock or slave and has a lot of I/O options: 10 analog outputs, 16 channels of ADAT Lightpipe In/Out, stereo S/PDIF or AES (on RCA phono), MIDI connections and two virtual 'loop back' inputs for routing digital audio between software applications. Finally, the included Saffire Mix Control software offers a zero-latency 18 x 16 DSP Mixer/Router for one-click mixing setups and large on-screen metering for inputs, outputs, submixes, headphones and plug-in usage. Much more at: www.focusrite.com/products/saffire/liquid_saffire_56/.

Cranesong Ltd. Egret
The Cranesong Egret has an eight-channel line mixer with eight D/A converters that takes mixing outside the box to the upper most level with its ability to add analog color (A blend of 2nd and 3rd harmonics) in any amount that fits your music's style. Each channel has a level knob, a post aux send control, analog color control, pan, solo and mute buttons. Every channel also has an analog/digital source button for selecting an alternate analog line input such as a live audio source. There are also completely balanced direct outputs and inputs for inserting analog processing into individual channels and a balanced stereo effects return. The master stereo bus level control is a 1-dB stepped attenuator for accurate and repeatable gain control and stereo gain matching is better than .05 dB. Multiple Egrets can be chained together for more inputs or for connection to other Cranesong products. The standard interface supports AES single wire to 192KHz, ADAT, and S/MUX to 96K. Check www.cranesong.net/testsite1/EGRET.html.
Read Barry's Mix Magazine Feature Article Called "Strictly Summing."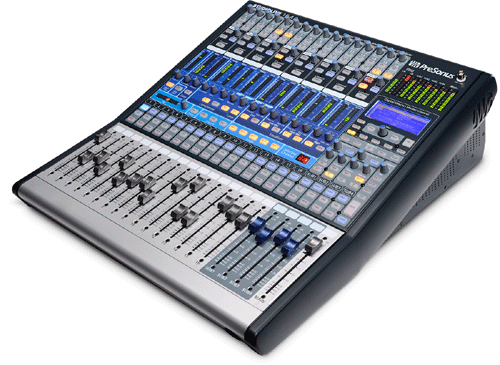 The PreSonus StudioLive 16.4.2 Digital Mixer

PreSonus StudioLive
Announced at last year's AES Show, PreSonus now delivers the StudioLive 16.4.2 Digital Mixer. "Digital" could be misleading because there are 16 analog Class A XMAX mic preamps with XLRs on the channel inputs, and each channel has 1/4-inch TRS balanced line inputs and insert points. The four subgroups outputs, and six aux bus inputs and outputs also are 1/4-inch TRS balanced, and the main outs are on both XLR and 1/4-inch TRS, along with a 1/4-inch mono output. The console has a four-band semi-parametric EQ, high-pass filter, compressor, limiter, and gate on every channel.

The console's digital side starts with a dual-port FireWire audio interface that routes all channels and buses to and from any ASIO-compliant audio application running on a Mac or Windows PC, including Logic, Cubase, Live, Digital Performer, Sonar, and Audition. Latency is low so StudioLive works in real-time for recording and monitoring live performances. For reverb and delay effects, there are two 32-bit stereo effects processors onboard.

StudioLive comes bundled with the especially configured Capture™ recording software for Mac OS X and Windows XP/Vista. Capture has all the professional tools such as: importation of .WAV files, dropping markers on the fly, basic editing, return recorded tracks to the mixer via FireWire for further processing, and mixing back to Capture for rendering in .WAV and/or Open TL files.

All settings, including Fat Channel settings and individual digital effects, are saved and recalled at the touch of a button. PreSonus will release a free firmware update that will enable you to use the two FireWire ports to daisy-chain, with sample-accurate synchronization, up to two StudioLive mixers for 32 channels of recording or up to twelve StudioLive mixers for 192 channels in live performance. Still way more than I can fit here so check: www.presonus.com/.


Heil Sound Drum Kits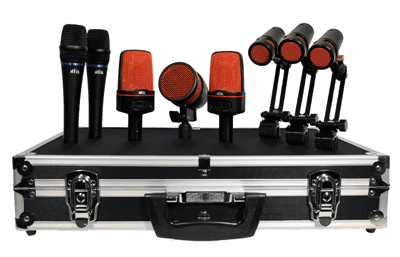 Bob Heil of Heil Sound showed three new drum microphone kits, the HDK-8 Primo (pictured), the HDK-7 and the HDK-5. All of the HDK drum kits come in road-worthy, foam-lined travel cases and feature microphones from the Heil Sound product line as well as several brand new mics specifically designed for drum kits. The HDK-8 Primo kit consists of two PR 22s for snare and high-hat, three PR 28s for toms, two PR 38s for overheads and a single PR 48 for kick. In addition, a new tom mount called the HH-1 is included. I checked the HH-1 on the show floor and there is no doubt in my mind that you can put the mic exactly where you want it--no matter how gnarly a drum kit setup you encounter. Check the Heil PR20 UT and the Heil PR48 More at: www.heilsound.com/pro/index.php.

Shure PG27 and PG42 Condenser Microphones
The Shure PG27-USB and PG42-USB are a couple of new side-address large diaphragm condenser mics fitted with both conventional XLR connectors and USB jacks. The Shure PG27USB Condenser and the Shure PG42-USB Condenser are for direct connection to a computer DAW--no mic pre-amp required! As an unusual feature, both these cardioid condenser microphones have built-in headphone amps with mix controls for zero latency monitoring. Both mics are said to have a flat, neutral frequency response suited for instruments and vocals. They come with a low-cut filter and external shock-mount and the USB models have an integrated mic pre-amp with gain control. Check www.shure.com.


Neutrik Unisex XLRs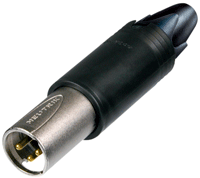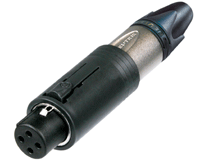 Neutrik seems to always come up with the best ideas for connectors--the lowly products they are not. convertCON® (NC3FM-C) is the first unisex three-pin XLR connector. The word unisex and XLR don't often collide in the same sentence but that's what these single connectors are. They are a male and female cable connector in a single housing--also available in a black chrome housing and gold contacts (NC3FM-C-B). I have a pair of 50-foot cables with these at each end and I can't tell you how many miles of shoe leather I've saved by not having to swap ends--no matter what, you've always got the right connector at both ends--even for weird setups like amateur-wired home studios that do not follow conventional connector standards. By simply sliding the housing back and forth, convertCON is transformed from a male to female connector.

JBL LSR2300 Monitors
One big positive sticker shock was the new line of powered monitors by JBL. At the demo room I was looking for other speakers hidden behind the curtains because the low frequency reproduction belies these monitors diminutive size. Don't ask me technically how they can do this but the new LSR2300 Series includes: the 160-watt LSR2328P Bi-Amplified 8-inch Studio Monitor with low frequency extension down to 37Hz; the 85-watt LSR2325P Bi-Amplified 5-inch Studio Monitor goes down to 43Hz; and the 180-watt LSR2310SP ten-inch Studio Subwoofer makes sound below 29Hz. It all has something to do with new long-excursion low-frequency transducers with high-flux motors and a custom-tuned port.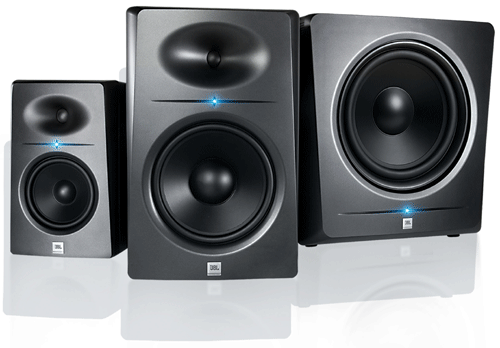 All use a single one-inch silk-substrate tweeter, and were all developed using the same Linear Spatial Reference technology as JBL's top of the line monitors. I also like the new styling with the single blue LED in the center of cabinet and the trademark large waveguide and the elliptical tweeter aperture look better than ever. More at: www.jblpro.com.

VocalBooth.com Amplifier Enclosure
I found many problem solvers at this year's show and VocalBooth.com's™ VB Amplifier Enclosure is a great one. It solves the problem of recording electric guitar in proximity to other quieter instruments or in the same room as your apartment/home studio. After you place your amp inside this enclosure and close it up, you're ready to dial up a full and loud rockin' tone, play on "10" if you must, all without breaking your lease. The enclosure comes in four sizes and has a convoluted foam interior. There is a cable "pass-through" port and room for your microphone(s) and you can order it with optional caster wheels and/or baffled-ventilation system to vent heat from a big tube amp. Check www.vocalbooth.com.




---
Copyright © 1994-- By Barry Rudolph All Rights Are Reserved.